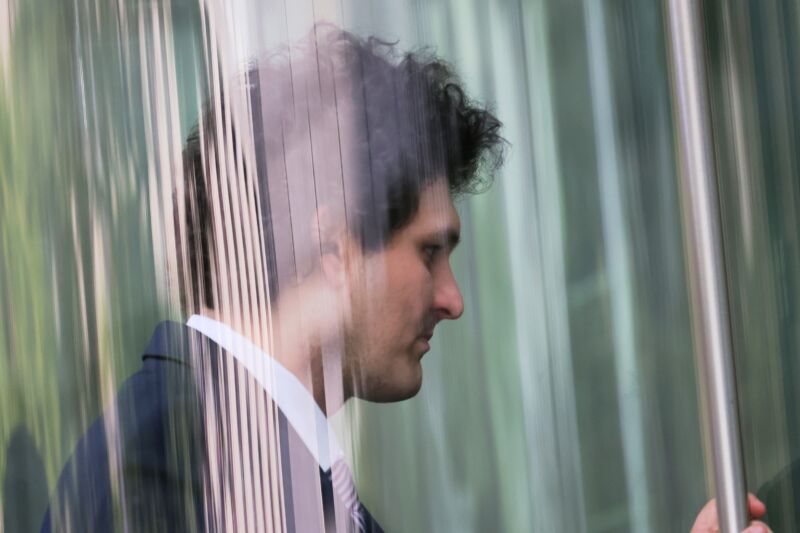 FTX founder Sam Bankman-Fried's monthlong criminal trial neared its end today as the prosecution and defense presented closing arguments.
Bankman-Fried is accused of defrauding customers and investors of cryptocurrency exchange FTX and its affiliate Alameda Research. This was a pyramid of deceit built by the defendant on a foundation of lies and false promises, all to get money," US prosecutor Nicolas Roos told the jury today, according to Reuters. "Eventually it collapsed, leaving thousands of victims in its wake."
Roos described how FTX customers lost their investments when the exchange collapsed, the Associated Press wrote. "Who was responsible?" Roos said, pointing at the defendant. "This man, Samuel Bankman-Fried. What happened? He spent his customers' money and he lied to them about it."
"The defendant was gambling with customer money," Roos reportedly said. "When he took the money, and he played roulette with it, he was stealing."
The case is in US District Court for the Southern District of New York, located in Manhattan. A 12-person jury will decide whether Bankman-Fried is guilty of seven charges that have maximum sentences totaling 110 years.
SBF "schemed and lied," isn't actually "clueless"
Roos said there is "no serious dispute" that $10 billion in FTX customer money went missing and that the jury needs to decide whether Bankman-Fried knew his actions were wrong, according to CNBC. "The defendant schemed and lied to get money, which he spent," he said.
Bankman-Fried "took the money, he knew it was wrong, he did it anyway," Roos said, according to CNN. The former crypto mogul "thought he was smarter" and that "he could talk his way out of it," Roos said.
Roos also told the jury that Bankman-Fried lied on the witness stand. "He told a story and he lied to you," Roos said, according to the AP.
Bankman-Fried chose to testify in what experts called a risky move. He tried to shift the blame to others and repeatedly answered "I'm not sure" or "I can't recall" to questions from US prosecutor Danielle Sassoon. Judge Lewis Kaplan rebuked Bankman-Fried for giving evasive answers.
Bankman-Fried answered with some version of "I can't recall" over 140 times, Roos reportedly told the jury. "To believe his story, you'd have to ignore the evidence," CNBC quoted Roos as saying. "You'd have to believe the defendant, who graduated from MIT and built two multibillion-dollar companies, was actually clueless."
According to TechCrunch, Roos emphasized that FTX used customer funds without their knowledge or approval, even though FTX's terms of service stated that users' deposits belonged to users. "Customer funds belong to customers and can't be used," but there was a "huge difference between what FTX said it had for customers versus what it actually had," Roos was quoted as saying. "This is not about complicated crypto [terms]. It's about deception. It's about lies. It's about stealing, greed."
Defense: SBF isn't a villain or monster
Roos' closing argument lasted several hours on Wednesday. Bankman-Fried's lawyer, Mark Cohen, began his closing argument in the late afternoon. Jury deliberations are likely to begin Thursday.
"Cohen said prosecutors elicited testimony about Bankman-Fried's sex life and appearance—the former billionaire was known for his unkempt mop of curly locks and wearing shorts and T-shirts—to try to get the jury to dislike him," Reuters wrote.
"Every movie needs a villain," Cohen said. "And let's face it, an awkward high school math nerd doesn't look particularly villainous. So what did they do? They wrote him into the movie as a villain." Cohen also said that "time and again, the government has sought to turn Sam into some sort of villain, some sort of monster.
The prosecution's case relied partly on testimony of former FTX executives who pleaded guilty and agreed to cooperate with the government. Caroline Ellison, the former Alameda Research CEO who dated Bankman-Fried, testified earlier that Bankman-Fried directed her to commit crimes and that "I would always ultimately defer to Sam."
One key topic was Alameda borrowing FTX customer deposits. Bankman-Fried said he believed that the borrowing was allowed under FTX's terms of service, but acknowledged that he only "skimmed over" parts of the terms.
The seven charges are wire fraud on customers of FTX, conspiracy to commit wire fraud on customers of FTX, wire fraud on lenders to Alameda Research, conspiracy to commit wire fraud on lenders to Alameda Research, conspiracy to commit securities fraud on investors in FTX, conspiracy to commit commodities fraud on customers of FTX in connection with purchases and sales of cryptocurrency and swaps, and conspiracy to commit money laundering.
An indictment said that Bankman-Fried "misappropriated and embezzled FTX customer deposits and used billions of dollars in stolen funds… to enrich himself; to support the operations of FTX; to fund speculative venture investments; to help fund over a hundred million dollars in campaign contributions to Democrats and Republicans to seek to influence cryptocurrency regulation; and to pay for Alameda's operating costs." He was also accused of making "false and fraudulent statements and representations to FTX's investors and Alameda's lenders."