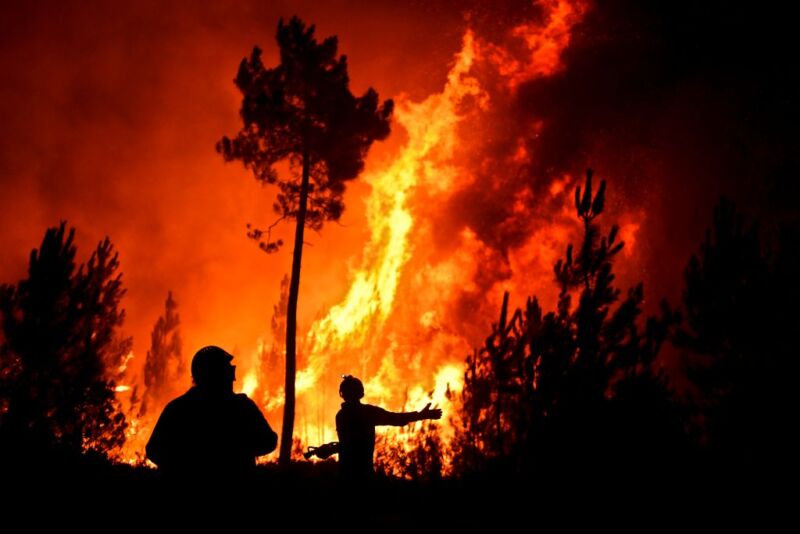 The largest climate case ever raised before the European Court of Human Rights (ECHR) kicked off Wednesday in Strasbourg, France, Reuters reported. It's an "unprecedented" effort from six young Portuguese people—ages 11 to 24—who allege that 32 European governments have failed to honor the Paris Agreement and mitigate climate change impacts, causing significant harms and violating their human rights.
Filed in 2020 after a devastating 2017 Portuguese wildfire that killed 120, the complaint alleged that inadequate state measures to reverse climate change have resulted in more frequent heatwaves and wildfires, increasing the risks of heat-related morbidity and fatal illnesses. The plaintiffs also argued that their rights to life, privacy, and family life are being violated, as well as their rights to a life free of discrimination. And because states are unlikely to act fast enough, they've alleged that any current risks are "set to increase significantly over the course of their lifetimes and will also affect any children they may have."
A victory in the ECHR could lead to a ruling forcing European governments to act faster to meet ambitious climate goals—likely by phasing out fossil fuels, reducing emissions, restricting companies from contributing to emissions released overseas, and limiting imports of goods produced by releasing emissions.
More than 80 lawyers represent the accused countries, Reuters reported, and the plaintiffs are represented by six lawyers. During today's hearing, countries argued that the plaintiffs have not shown evidence of harms caused. Representing Portugal, Ricardo Matos even questioned the "victim status" of the young people suing, AP News reported. Greece argued that "effects of climate change, as recorded so far, do not seem to directly affect human life or human health," while a lawyer representing Britain argued that the case should be rejected because climate harms are "global.
The court is not expected to rule on the case until early 2024, Reuters reported. To win, the plaintiffs need "to convince judges that they have been sufficiently affected to be considered as victims," AP reported. During Wednesday's proceedings, one judge asked plaintiffs "to provide more details about how their quality of life has been affected," AP reported. Some of the young people suing claimed in their complaint that they currently suffer from "reduced energy levels, difficulty sleeping, and a curtailment of their ability to spend time or exercise outdoors during recent heatwaves."
"Due to heat extremes, I'm limited in how I exercise and how much time I can spend outdoors," Andre Oliveira, a 15-year-old among those suing, said outside court Wednesday, according to Reuters. "I'm forced to stay inside, I struggle to sleep, and thanks to the weak climate policies of these governments, things are getting worse."
Governments deny young people are victims
On Wednesday, the director of the European Commission legal service, Daniel Calleja Crespo, tried to push back on claims that countries weren't taking climate change seriously, arguing that "the EU is going beyond the obligations of the Paris Agreement," which aims for under 2° C warming.
However, a lawyer representing the plaintiffs, Gerry Liston, told the court that there's evidence that governments have not done enough to comply with the Paris Agreement.
"We have put forward evidence before the court that all of the respondents' state climate policies are aligned to 3° (Celsius) of warming within the lifetime of the applicants, or in the case of some states, worse than that," Liston said. "No state has put forward evidence to counter that position."
Any decision that the court makes in this case would be legally binding for all 32 countries, which could face "hefty fines decided by the court" for any failure to comply, AP reported.
Around the world, people young and old have attempted to convince courts to pressure officials into taking climate action, as progress toward reversing impacts globally has been slow.
In the US, climate lawsuits have had some success. Earlier this year, youths won a landmark climate inaction lawsuit against the state of Montana, and young people in Hawaii and Oregon have filed similar lawsuits in their states.
In Europe, the ECHR is currently considering multiple complaints. Shortly after the plaintiffs filed their lawsuit, an association of senior Swiss women filed a complaint against Switzerland with the ECHR. As did a French lawmaker against France, AP reported. It's possible that the ECHR will rule on all three cases at once, AP reported. As the youth climate trial began Wednesday, a co-president of the Swiss association, Anne Mahrer, traveled with other members to support activists, saying, "I wish them a future, because they are very young. We probably won't be there to see it, but if we win, everybody wins."
Another lawyer representing young people suing, Alison Macdonald, told the court that this case is about "the price" that young people "are paying for the failure of states to tackle the climate emergency. It is about the harm that they will suffer during their lifetimes unless states step up to their responsibilities."
During the hearing, Oliveira said that he remains "hopeful that the court will understand the urgency of this situation and will side in favor of our case," AP reported.