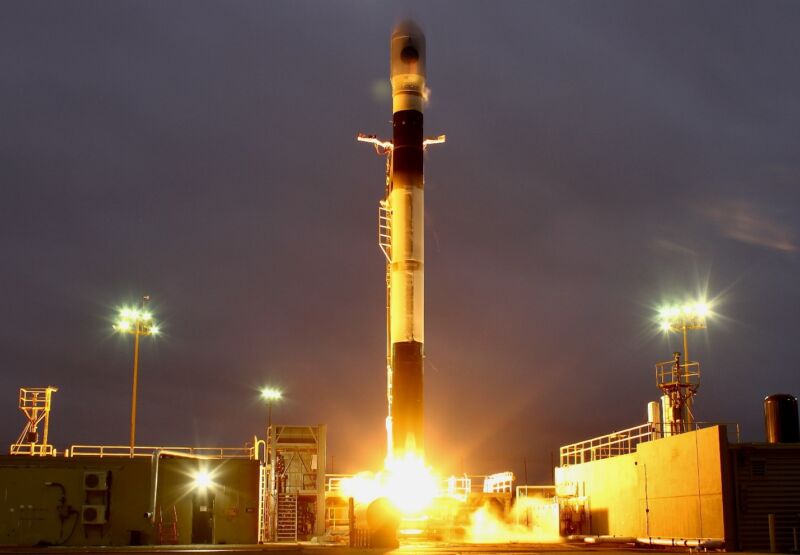 As part of its efforts to be more nimble in space, the US military has been pushing satellite and launch companies to become more "responsive" in their ability to put spacecraft into space.
Essentially, the military is concerned about other nations damaging or destroying its assets in orbit during a conflict. Military officials believe one way to guard against this would be to have the capability to rapidly replace those satellites—whether they're for spying, communications, or other purposes.
The US Space Force took a step toward this goal two years ago with a mission called Tactically Responsive Launch-2, or TacRL-2. This small satellite was built in less than a year by taking existing components and putting them together to create a space domain awareness satellite. The mission was then launched within 21 days, on June 13, 2021, by a solid-fueled Pegasus rocket built by Northrop Grumman.
Victus Nox takes flight
With its latest attempt at tactically responsive launch, the Space Force took a big step further. It contracted with the US launch company Firefly to put a spacecraft called "Victus Nox" into orbit within 24 hours of receiving the go command from the military.
At the end of August, this Victus Nox mission entered what was called the "hot standby phase," placing satellite-maker Millennium Space Systems and launch provider Firefly Aerospace into a six-month period during which they were to wait for a launch command.
On Wednesday, the US Space Force told the companies to go. After this point, Firefly encapsulated the Millennium satellite into a payload fairing, mated it to Firefly's Alpha launch vehicle, and completed all final launch preparations. The small launch rocket then successfully lifted off at 7:28 pm local time (02:28 UTC Friday) from Space Launch Complex 2 West at Vandenberg Space Force Base in California.
The two companies met the goal of being "launch ready" within 24 hours, and the total time from receiving the go command to liftoff was 27 hours, far eclipsing the previous record set by the first tactically responsive launch two years ago.
"The success of Victus Nox marks a culture shift in our nation's ability to deter adversary aggression and, when required, respond with the operational speed necessary to deliver decisive capabilities to our warfighters," said Lt. Gen. Michael Guetlein, commander of Space Systems Command, in a statement released early Friday morning. "This exercise is part of an end-to-end Tactically Responsive Space demonstration which proves the United States Space Force can rapidly integrate capabilities and will respond to aggression when called to do so on tactically relevant timelines."
Millennium and the US Space Force will now seek to activate the spacecraft within 48 hours of reaching orbit.
Firefly lighting up
This launch represents a significant achievement for Firefly, a Texas-based company that attempted the first launch of its Alpha rocket in September 2021. That rocket was lost after two and a half minutes into flight due to the failure of one of its four main engines. The Alpha rocket then suffered a partial failure during its second attempt in October 2022, when its second stage deposited seven small satellites into a lower-than-intended orbit. Most of the satellites reentered Earth orbit within days of launch.
The Victus Nox mission was just the third flight of the Alpha rocket, and according to both the company and Space Force, the Victus Nox satellite was indeed placed into its target orbit.
"Today was an incredible success for the Space Force, the Firefly team, and our nation after nailing this complex responsive space mission," said Bill Weber, chief executive of Firefly Aerospace, in a statement. Our combined commercial and government team executed the mission with record speed, agility, and flexibility, adding a critical capability to address national security needs.
With this success, Firefly now intends to ramp up production of the Alpha rocket—which is capable of delivering about 1 metric ton to low-Earth orbit—for a more operational cadence of missions. Likely up next is the launch of several cubesats for NASA. That mission could take place later this year or early in 2024.
First of the 1 tons
Alpha has become the first successful, commercially developed US rocket capable of lifting about 1 ton to orbit. Over the last five years or so, it has been competing in a lane with Relativity Space's Terran 1 rocket and ABL Space's RS 1 vehicle.
The RS1 vehicle made its debut in January 2023 but failed shortly after liftoff. A second demonstration flight is possible late this year or early in 2024 from Alaska.
Relativity Space flew its Terran 1 rocket for the first and only time in March. During this flight from Cape Canaveral, Florida, the first stage performed as expected, with a nominal stage separation. However, at 2 minutes and 48 seconds into flight—two seconds after ignition of the second-stage Aeon engine—the engine did not achieve full thrust. Afterward, Relativity Space announced it was pivoting to a much larger launch vehicle, Terran R.