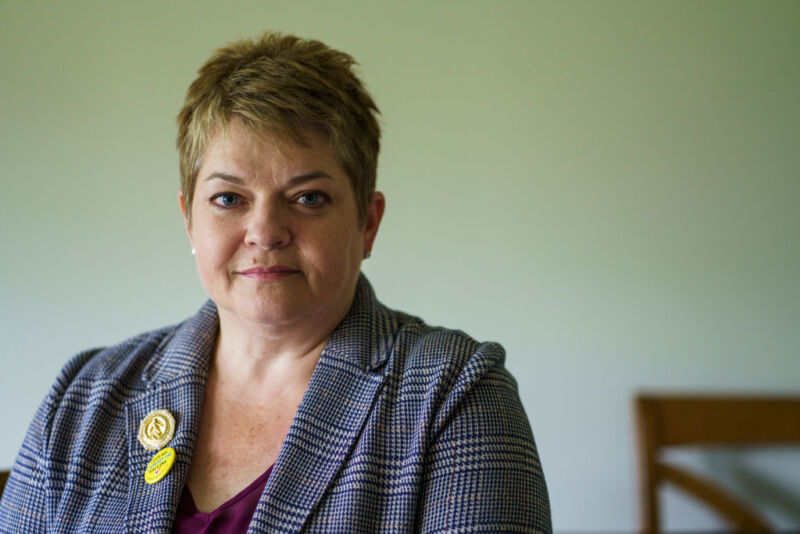 The state of Tennessee will pay $150,000 to settle a lawsuit brought by Dr. Michelle Fiscus, the state's former top vaccination official who was fired in July 2021 after promoting COVID-19 vaccinations in the early stages of the deadly delta wave.
The state claimed Fiscus was fired over complaints about her leadership approach and her handling of an informational letter to health providers regarding the state's law on the vaccination rights of minors. Fiscus countered with a point-by-point rebuttal of the state's claims, releasing years of performance reviews that rated her work as "outstanding."
Fiscus claims she was actually fired after her efforts to promote COVID-19 vaccinations outraged GOP state lawmakers who "bought into the anti-vaccine misinformation," she alleged in a lengthy statement published by The Tennessean.
Emails reviewed by the Associated Press months after filing a public records request indicated that colleagues did not complain about her leadership approach but in fact lauded it, calling her efforts to provide life-saving immunizations to Tennesseans "herculean" in multiple instances. They also expressed shock and dismay over her ousting.
The May 10 letter that ignited Republican outrage over Fiscus' work described to providers the state's long-standing law—the Mature Minor Doctrine—that allows healthcare providers to provide care, including immunizations, to adolescents 14 and up without parental consent. Fiscus said she sent the letter after receiving questions from providers about it ahead of the authorization of COVID-19 vaccines for teens. The letter's text, she said, included language that was copy-and-pasted from a description of the law by the health department's general counsel, who told her it had also been "blessed by the Governor's office."
In a June meeting, Republican lawmakers accused the health department of "targeting" youth and called vaccination outreach "reprehensible," Fiscus said. One lawmaker allegedly called for the health department to be dissolved.
Aftermath
Fiscus was fired on July 12, 2021. In September, she filed a lawsuit claiming that the state disparaged her after the termination, releasing a memo recommending the termination that included false information and attacked her character. She accused the state of casting her as a "rogue political operative pursuing her own agenda and as a self-dealing grifter of the public purse."
In October 2023, the state agreed to pay Fiscus $150,000 to settle the case. In addition, top health officials agreed not to disparage Fiscus, and Fiscus agreed not to disparage state officials. Additionally, Fiscus is required to refrain from commenting if she is asked about the lawsuit, negotiations, or settlement.
According to the AP, Fiscus has moved out of Tennessee since her firing. The outlet also notes that Tennessee lawmakers have since passed laws requiring informed consent from parents and guardians before minors are vaccinated.
Currently, Tennessee ranks ninth for the highest number of COVID-19 deaths per 100,000, according to data by the Centers for Disease Control and Prevention. As of May of this year, only 56 percent of the state's population had completed a primary series of COVID-19 vaccines.
At the time of her firing, Fiscus noted she was the twenty-fifth of 64 state and territorial immunization program directors to leave their role during the pandemic, marking a 40 percent turnover amid the global health crisis. Some, like Fiscus, were ousted, while others quit amid public and political backlash, harassment, disparagement, and abuse. Last week, the CDC reported that the number of health workers who report harassment at work more than doubled between 2018 and 2022. In 2022, 46 percent reported burnout, and 44 percent said they would look for a new job.