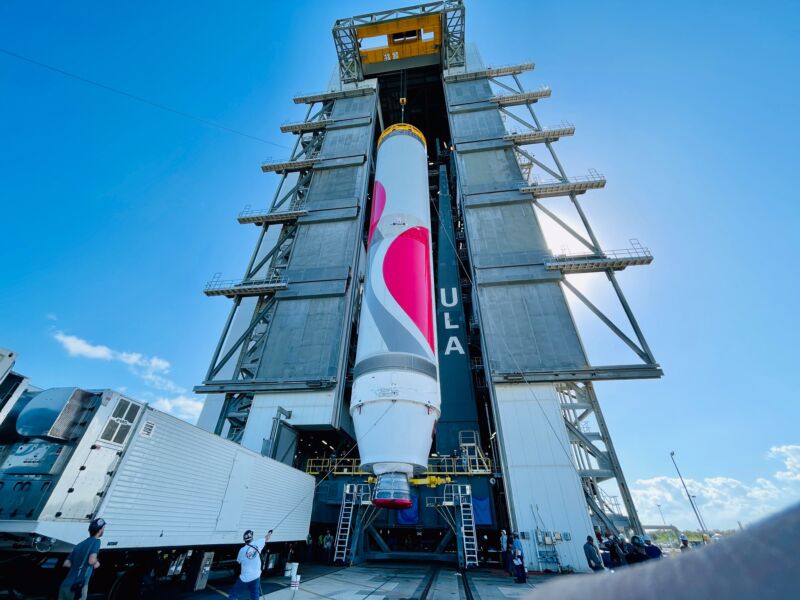 Shareholders of a pension fund that includes Amazon stock have sued the company, its founder Jeff Bezos, and its board of directors for "breaching their fiduciary duty" as part of a contract to acquire launch services for the Project Kuiper megaconstellation.
The lawsuit, filed on Thursday and first reported by the Delaware Business Court Insider, alleges that in purchasing launches for Kuiper, Amazon failed to consider SpaceX and its Falcon 9 rocket. This was the only prudent choice that would have enabled Amazon to launch half of its constellation by a 2026 deadline, the lawsuit states.
The plaintiffs say that the Falcon 9 costs less than its competitors and has other advantages, such as being available now. Nevertheless, the lawsuit alleges, SpaceX was never considered due to an intense and personal rivalry between that launch company's founder, Elon Musk, and Bezos, who has a competing rocket company in Blue Origin.
"Given these factors, Amazon's persistent refusal to even consider SpaceX—and the Board's failure to question its exclusion—lays bare the extent to which Bezos' personal rivalry influenced Amazon's procurement process," the lawsuit states.
Mega-launch contracts
At issue is Amazon's mega-award in 2022 for launch contracts to three companies, Blue Origin, United Launch Alliance, and Europe-based Arianespace. With this deal for 83 total launches, Amazon acquired an extraordinary amount of medium- and heavy-lift launch capacity over the next five years, procuring launches from every major Western provider except for its direct satellite competitor, SpaceX.
Amazon did not specify the value of the deal, but the lawsuit notes it was "the second-largest capital expenditure" in Amazon's history, after the company's $13.7 billion acquisition of Whole Foods. The company's second-largest acquisition of studio MGM was valued at $8.5 billion in 2021. Additionally, the lawsuit states that Amazon has already paid $1.7 billion to the three launch providers, including $585 million directly to Blue Origin.
The primary issue raised by the lawsuit is that Amazon's board of directors did not consider SpaceX as a potential launch contractor and instead chose companies that would enrich Bezos. He founded and owns Blue Origin, and his launch company also has a contract to provide rocket engines for United Launch Alliance's Vulcan rocket.
The lawsuit makes much of the ongoing delays to Blue Origin's New Glenn rocket and the Vulcan booster. Decisions about the launch contracts for Project Kuiper were made when it was clear these large boosters would not be ready to deliver large numbers of satellites ahead of a 2026 deadline set by the Federal Communications Commission.
"The near-constant drumbeat of delays and bad news from Blue Origin and its business partner and customer, ULA, now threatens to jeopardize the entire Kuiper program, underscoring the harm the Board's utter failure to comply with its fiduciary duties has caused to Amazon," the lawsuit states.
In terms of relief, the plaintiffs are seeking damages and attorney's fees. Amazon has said the lawsuit is without merit.
Kuiper and due consideration
The multinational technology company announced in 2019 that it would develop a large broadband satellite Internet constellation in 2019 called Project Kuiper. Under the license it received from the Federal Communications Commission, Amazon is required to launch half of its planned 3,236 satellites into low-Earth orbit by July 30, 2026. The remainder must be launched within three years of that. However, it is generally expected that if Amazon demonstrates progress toward that goal, it could receive an extension on these deadlines.
The lawsuit is spicy from the standpoint of the space community, because it highlights the tensions between Musk and Bezos and the fact that Musk's company has consistently outperformed Blue Origin in nearly all manner of spaceflight activities. However, it is not clear how much legal ground there is to stand upon here.
Amazon has a ready defense. In not considering SpaceX, it chose to not fund its largest competitor in the space-based Internet business. SpaceX, with its Starlink constellation, is five years ahead of Amazon and already has launched 5,000 satellites. In purchasing Falcon 9 rockets, Amazon would have been, in effect, funding the further development and improvement of the Starlink service.
The core issue is likely to be whether Amazon directors gave due consideration to this, and other related matters. The meetings to approve these launch contracts, according to the lawsuit, were brief and perfunctory. Perhaps the real question is whether Amazon's directors should have spent more time discussing whether launching its Kuiper satellites on time, and likely for about half the cost of its other options, outweighed the downside of supporting a competitor's business.