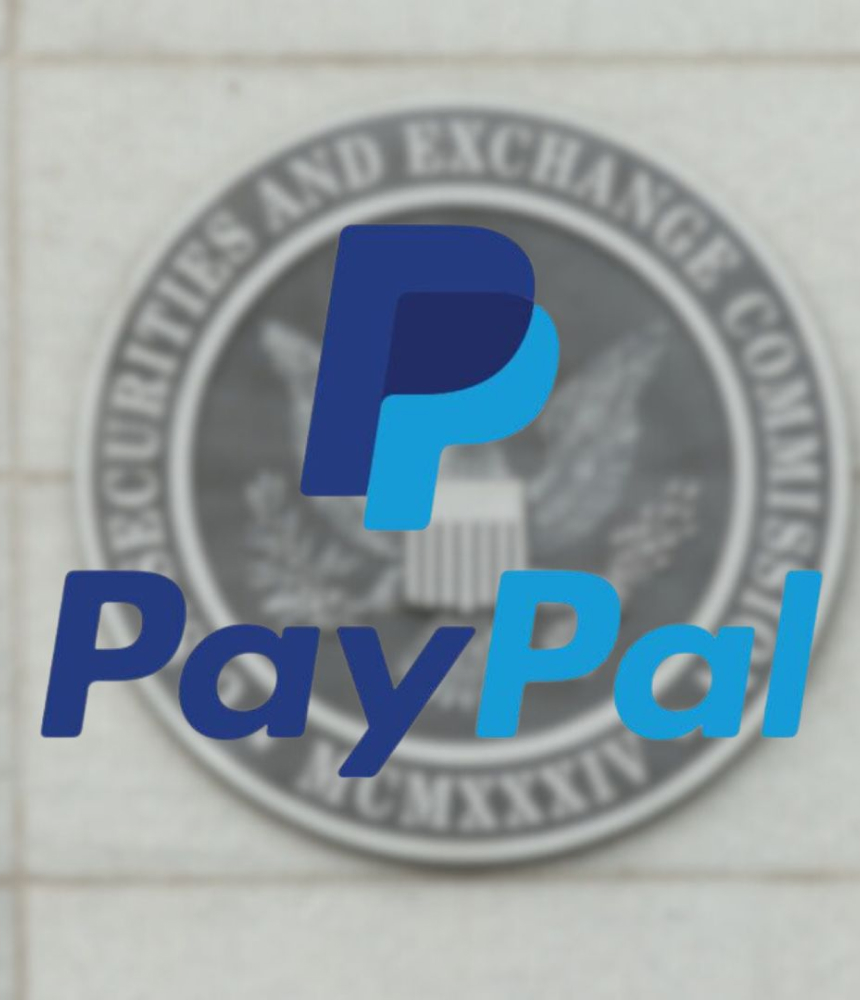 Table of Contents
In its Q3 report, payments giant PayPal revealed that it had been served with a subpoena from the US Securities and Exchange Commission. Despite facing action, PayPal shares rose around 7% on Thursday. 
In its quarterly report, PayPal Holdings revealed that the US SEC issued it with a subpoena relating to its stablecoin PayPal USD (PYUSD).  
PayPal Cooperating with SEC
The SEC's enforcement division issued PayPal with a subpoena relating to its US dollar-pegged stablecoin PYUSD. In its report, the company stated:
"On November 1, 2023, we received a subpoena from the U.S. SEC Division of Enforcement relating to PayPal USD stablecoin. The subpoena requests the production of documents." 
The payments giant said it was cooperating with the securities agency. PayPal launched PYUSD on the Ethereum blockchain in August. PYUSD is issued by Paxos Trust Company – a New York-based crypto infrastructure provider and backed by US dollar deposits, short-term Treasuries and similar cash equivalents. The ERC-20 stablecoin can be used for transfers between PayPal and supported external wallets, funding purchases, person-to-person payments, and converting any of PayPal's listed digital assets to and from PYUSD. 
In a statement, PayPal said its stablecoin aims to bridge fiat and Web3 consumers and will be available to external developers, wallets and web3 applications. 
Dan Schulman, CEO and president of PayPal at the time, commented: 
"The shift toward digital currencies requires a stable instrument that is both digitally native and easily connected to fiat currency like the U.S. dollar.

Our commitment to responsible innovation and compliance, and our track record delivering new experiences to our customers, provides the foundation necessary to contribute to the growth of digital payments through PayPal USD."
Bank of America Says PYUSD Won't Be Widely Used
Soon after the announcement of its stablecoin, the Bank of America reacted somewhat pessimistically about the future of PayPal USD. The news of PayPal's stablecoin drew worldwide criticism, with many predicting it would not succeed in the short term.
The Bank of America maintains that PYUSD is not likely to be widely adopted as it might face intense competition on the market, mainly from central bank digital currencies (CBDCs) and yield-bearing stablecoins:
"Over the longer term, we expect PYUSD to experience additional adoption headwinds as competition from central bank digital currencies (CBDCs) and yield-bearing stablecoins increases." 
Shares Rocket Despite SEC Subpoena
On Thursday, Reuters reported that PayPal added almost $4 billion to its market value after a vow to turn the company "leaner" inspired renewed interest among its investors. Following the release of its Q3 report, PayPal shares rose almost 7% to $55.12 as the company revealed a strong full-year profit forecast, which settled market concerns over a spending slowdown. 
.@PayPal reported third quarter results today, demonstrating continued progress against our strategic initiatives. Listen to our conference call at 2 p.m. PDT at https://t.co/Q7zEipw5SP $PYPL https://t.co/QDAQFcZVuf pic.twitter.com/uQmSRKArg3

— PayPal News (@PayPalNews) November 1, 2023
PayPal's new CEO, Alex Chriss, said:
"Simply put, our cost base remains too high." 
Chriss assured investors that the company would align its resources to its "most profitable growth priorities," Reuters reports.  
PayPal Expands Into the Crypto Sphere
The company recently announced several strategic moves into the crypto space. PayPal launched an off-ramp service that allows users to convert their crypto into US dollars. The launch of PayPal's off-ramp service followed shortly after the company's on-ramp service. 
The payment's behemoth also obtained a crypto license for the UK watchdog, the Financial Conduct Authority (FCA). Although PayPal is among the companies authorised to conduct "specific crypto activities" in the UK, concerns over the FCA's heavy restrictions make the news somewhat underwhelming. 
Disclaimer: This article is provided for informational purposes only. It is not offered or intended to be used as legal, tax, investment, financial, or other advice.