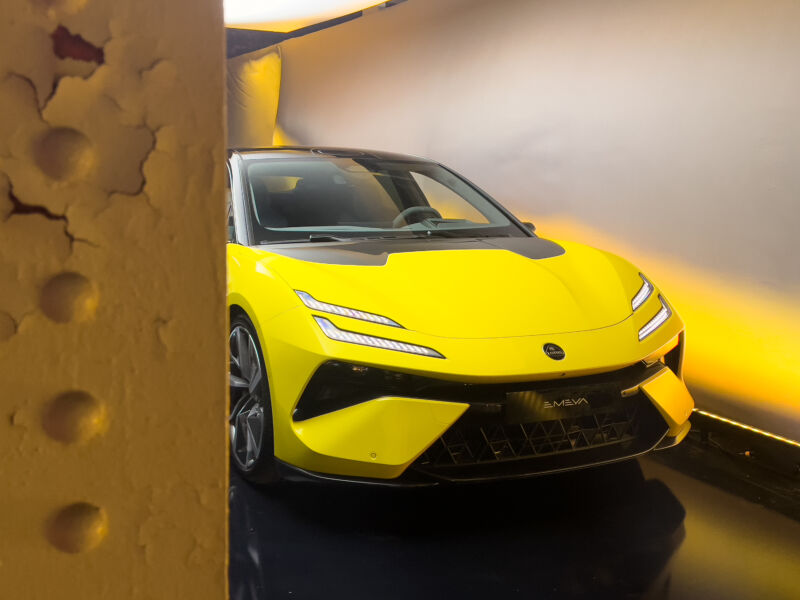 NEW YORK—After languishing with a lack of serious investment for decades, Lotus Cars is now starting to show the results of its 2017 acquisition by Geely. After building a low-volume electric hypercar and then its last gasoline-powered sportscar, it debuted an all-new electric vehicle, an SUV called the Eletre. And next year another new EV goes into production, a new four-door GT called the Emeya that uses the same Electric Premium Architecture platform as that SUV.
Despite sharing a corporate parent and a very similar design brief, the Lotus Emeya is unrelated to the Polestar 5 four-door GT that we rode in a few weeks ago. Both cars clearly target the Porsche Taycan, offering high power outputs, very rapid charging, and an engaging driving experience. But there's nothing shared between the Polestar and the Lotus, which, unlike the Polestar 5, uses a more conventional chassis construction that's a mix of different strength steels and aluminum.
"This is a Lotus like you've never seen before," said Lotus Group Vice President of Design Ben Payne. We've built on everything Lotus has achieved so far, creating a luxury performance car for the drivers, designed to inspire confidence, exhilarate with raw emotion and pure joy—connecting them to the road.
More electric sedans are always welcome.


Jonathan Gitlin

There are aeroblade air channels at the front and rear of the Emeya.


Jonathan Gitlin

The interior shares some details with the Eletre SUV.


Jonathan Gitlin

Don't expect the video camera mirrors to appear on US-spec Emeyas.


Jonathan Gitlin

One of the less aerodynamic wheel designs.


Jonathan Gitlin
The shape is heavily influenced by aerodynamics, and Lotus has equipped Emeya with an active front grille, rear diffuser, and rear spoiler. Like the Eletre, it rides on air suspension rather than more conventional springs and dampers.
As the Emeya only goes into production next year, Lotus was not prepared to discuss some technical details like the car's mass. We do know it's targeting up to 905 hp (675 kW) and 726 lb-ft (985 Nm) for the most powerful variant, which should have a 0-62 mph (0-100 km/h) time of under 2.8 seconds. The motors are permanent magnet designs, and the rear drive unit contains a two-speed transmission, like the Porsche Taycan.
The 102-kWh lithium-ion battery pack runs at 800 V and can DC fast charge from 10-80 percent in 18 minutes if connected to a 350 kW fast charger.
Right now we can't tell you how much the Emeya weighs or how much it's likely to cost—that information will be released closer to the Emeya's start of production in China next year.