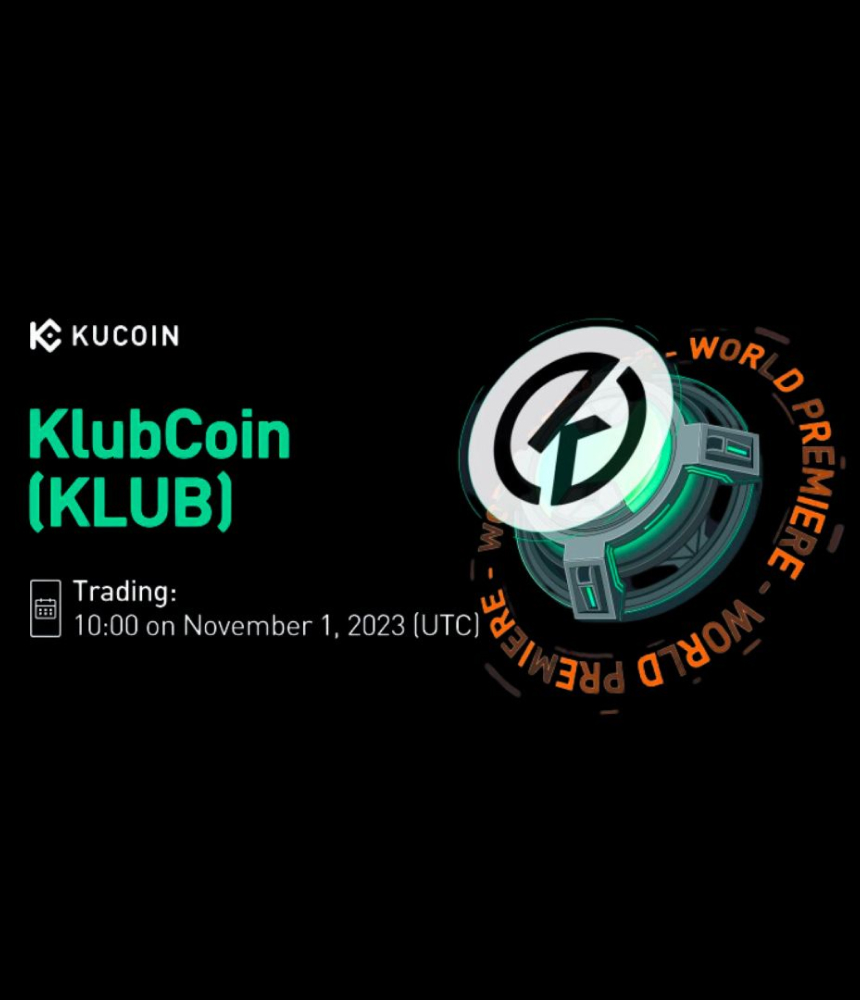 Table of Contents
KlubCoin proudly announces that its native token, $KLUB, is listed on its first centralised exchange, one of the industry's leading platforms, KuCoin.
This announcement marks a significant milestone following their successful IDO with the leading launchpads TrustSwap, Seedify, Bullperks, GameFi, and Gamespad, raising over USD 700,000 across the platforms.
The exchange communicated this development in an official blog post on November 30 and shared the news on X.
"KuCoin is extremely proud to announce yet another great project coming to our spot trading platform. KuCoin is extremely proud to announce yet another great project coming to our Spot trading platform. KlubCoin (KLUB) will be available on KuCoin! " the statement read.
According to the announcement, deposits of KLUB tokens are now live via the ERC-20 network. However, trading activities for the token will go live today, at 10:00 AM UTC on November 1st (UTC).
💥World Premiere💥

📢 New Listing@KlubCoin $KLUB Gets Listed on #KuCoin!

💎Pair: KLUB/USDT
💎Deposit: now open (network: ERC20)
💎Trading: 10:00 AM on November 1, 2023 (UTC)

— KuCoin (@kucoincom) October 30, 2023
The announcement also noted that the supported trading pair is the Tether USD (USDT) stablecoin. Notably, KuCoin added that it will enable withdrawals of deposited KLUB tokens starting on Thursday, November 2.
KlubCoin has already received over 20,000 unique wallet downloads. Users can utilise the platform and the $KLUB token to buy tickets, merchandise, drinks, VIP tables, access sold-out events, tips, as well as purchase money-can't-buy experiences in more than 50+ venues and partners globally. The KlubCoin platform aims to revolutionise the relationships between electronic music fans everywhere and the industry players.
"KLUB is a utility token, which will allow users to use it to pay for drinks, get cashback rewards, tip, book tables or even earn money-can't-buy experiences at the biggest venues worldwide," Stephane Schweitzer, the CEO and co-founder for Klubcoin, said in a statement.
The introduction of the $KLUB token to KuCoin exchange joins the growing list of important companies that have decided to partner with KlubCoin, due to the great popularity of the growing ecosystem around the electronic music industry and the power of blockchain technology that can be explored within the KlubCoin platform.
KuCoin, a major exchange founded in Asia and available for the international market, announced that the listing of the $KLUB token will be available starting at 10:00AM UTC, November 1st, 2023, and withdrawals starting at 10:00AM UTC, November 2nd, 2023.
KuCoin Trading link: https://www.kucoin.com/trade/KLUB-USDT 
With this being the first centralised exchange listing for the $KLUB token, the team aims to secure more centralised exchange listings in the foreseeable future, marking the beginning of KlubCoin company's anticipated growth trajectory.
About KlubCoin
KlubCoin is the first electronic music rewards and loyalty platform, with over 50+ partners and backers, including some of the biggest brands in the electronic music industry, such as Amnesia Ibiza, DJ Mag, Bootshaus, Eden Ibiza, Clubbing TV, 1001Tracklists, and many more.
Disclaimer: This is a sponsored article and is for informational purposes only. It does not reflect the views of Crypto Daily, nor is it intended to be used as legal, tax, investment, or financial advice.