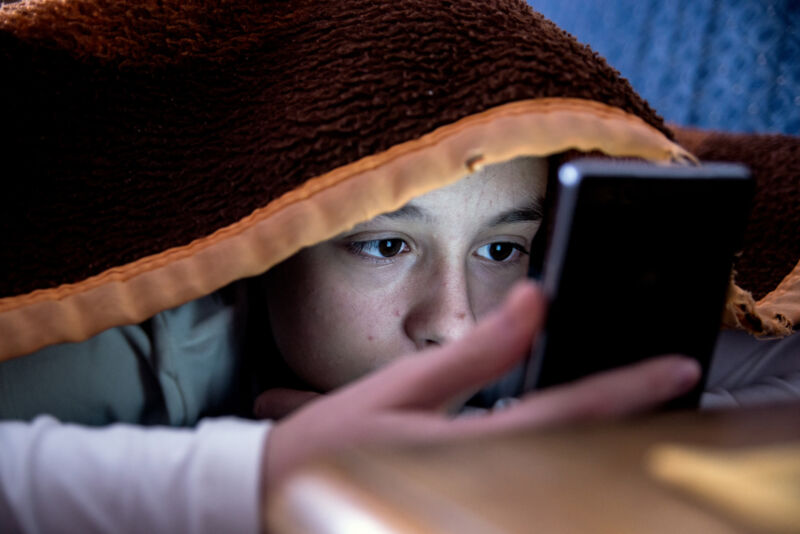 This week, some of the biggest tech companies found out that Section 230 immunity doesn't shield them from some of the biggest complaints alleging that social media platform designs are defective and harming children and teen users.
On Tuesday, US district judge Yvonne Gonzalez Rogers ruled that discovery can proceed in a lawsuit documenting individual cases involving hundreds of children and teens allegedly harmed by social media use across 30 states. Their complaint alleged that tech companies were guilty of negligently operating platforms with many design defects—including lack of parental controls, insufficient age verification, complicated account deletion processes, appearance-altering filters, and requirements forcing users to log in to report child sexual abuse materials (CSAM)—and failed to warn young users and their parents about those defects.
Defendants are companies operating "the world's most used social media platforms: Meta's Facebook and Instagram, Google's YouTube, ByteDance's TikTok, and Snapchat." All of these companies moved to dismiss the multi-district litigation entirely, hoping that the First Amendment and Section 230 immunity would effectively bar all the plaintiffs' claims—including, apparently, claims that companies ignored addressing when moving to dismiss.
"Defendants were adamant that the entirety of the complaint should be dismissed under Section 230 of the Communications Decency Act of 1996 and the First Amendment," Gonzalez Rogers wrote.
Under the 9th Circuit's three-part test to see if Section 230 applies, tech companies must prove that (1) they are providers of an interactive computer service, (2) whom plaintiffs seek to treat as a publisher or speaker, and (3) of information provided by another information content provider.
Plaintiffs argued that the second prong wasn't met because their complaint was allegedly entirely aimed at how platforms were designed—not at content published by platforms—and tech companies argued that all prongs were met because all the alleged harms allegedly stemmed from content on their platforms.
Gonzalez Rogers found that both sides' "all or nothing" approaches to the motions to dismiss did "not sufficiently address the complexity of the issues facing this litigation" or "fairly or accurately represent the Ninth Circuit's application of Section 230 immunity."
Gonzalez Rogers' ruling sheds new light on how courts interpret the scope of Section 230 immunity. She wrote that "the issue is whether the defendant's alleged duty to the plaintiff could 'have been satisfied without changes to the content posted by the website's users and without conducting a detailed investigation.'"
While platforms hoped she would find that none of their duties could have been satisfied without those conditions being met, Gonzalez Rogers identified nine alleged design defects that "do not implicate publishing or monitoring of third-party content," "are not equivalent to speaking or publishing," and "can be fixed by defendants without altering the publishing of third-party content" and "thus are not barred by Section 230."
Alleged defects not barred by Section 230 include: not providing effective parental controls; not providing options for young users to self-restrict time used on the platform; making it challenging for users to delete their accounts; not using robust age verification; making it challenging for users to report predators and inappropriate content; offering appearance-altering filters; not labeling filtered content; the timing of notifications alleged to increase addictive use; and not implementing "reporting protocols to allow users or visitors of defendants' platforms to report CSAM and adult predator accounts specifically without the need to create or log in to the products prior to reporting," the order said.