The "Passtronaut" has done it again.
Minnesota Vikings quarterback Joshua Dobbs, playing in just his second game with the team, led the way to a win over the New Orleans Saints, 27-19, on Sunday in his first home game. 
This was an interesting game, to say the least, as Saints quarterback Derek Carr, who was struggling in this one, was replaced by Jameis Winston after being injured.
CLICK HERE FOR MORE SPORTS COVERAGE ON FOXNEWS.COM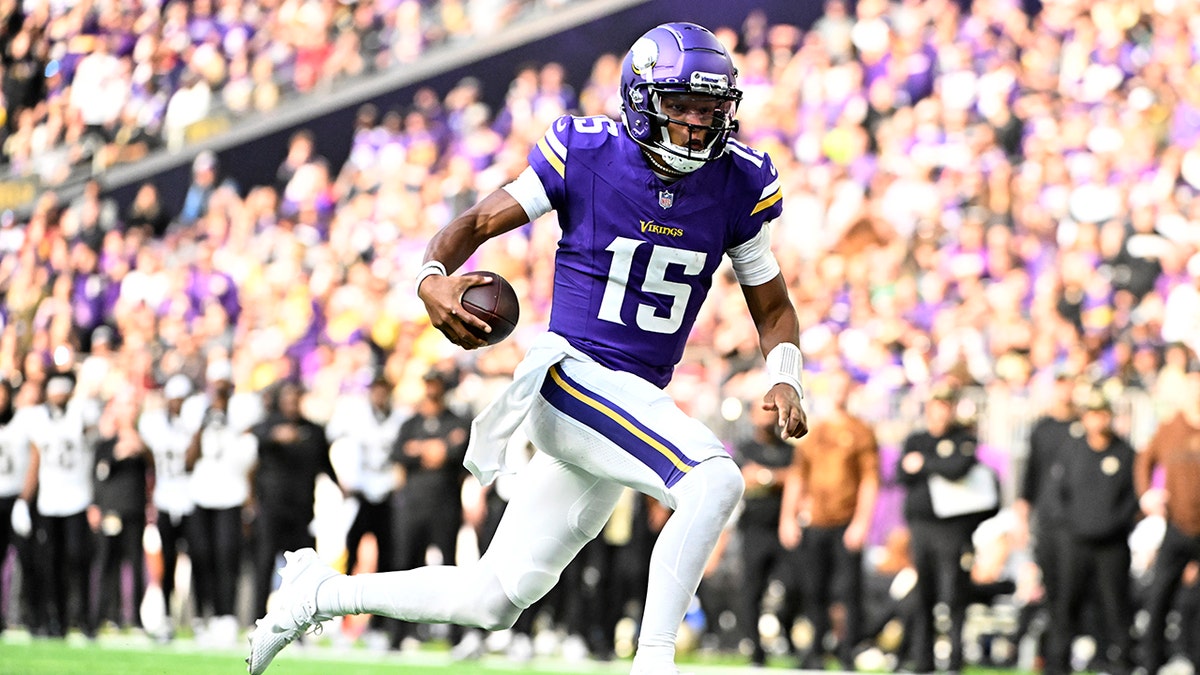 And as he usually does, Winston began to let it fly and started to bring the score closer in the second half.
Before getting to that, it was "The Dobbs Show" in the first half of this game that ended with a 24-3 lead heading into the locker room. He was electric, throwing for one score to his top target, T.J. Hockenson, and scrambling for a seven-yard rushing score as he dissected the Saints' tough defense. Ty Chandler also rushed one in from two yards out.
Dobbs would finish the game with 268 yards on 23 of 34 through the air with one touchdown and no interceptions.
EX-CARDINALS QB JOSH DOBBS SUGGESTS COACH JONATHAN GANNON LIED TO HIM SHORTLY BEFORE TRADE TO VIKINGS
The second half, though, was definitely more about Winston because this became a game that wasn't easy for the Vikings to walk away with a win. 
On 2nd-and-16 from their own 49-yard line, the Saints saw Carr get injured, leading to Winston to replace him. Four plays later, Chris Olave, who became his most reliable target, made an unreal toe-tap touchdown from 14 yards out to make it 27-11.
Then, two drives later, Winston did what many quarterbacks probably wouldn't have and fired a ball clear across the field to find A.T. Perry in the back right of the end zone for a 15-yard score. A two-point conversion from running back Alvin Kamara made it an eight-point game with more than enough time to work with.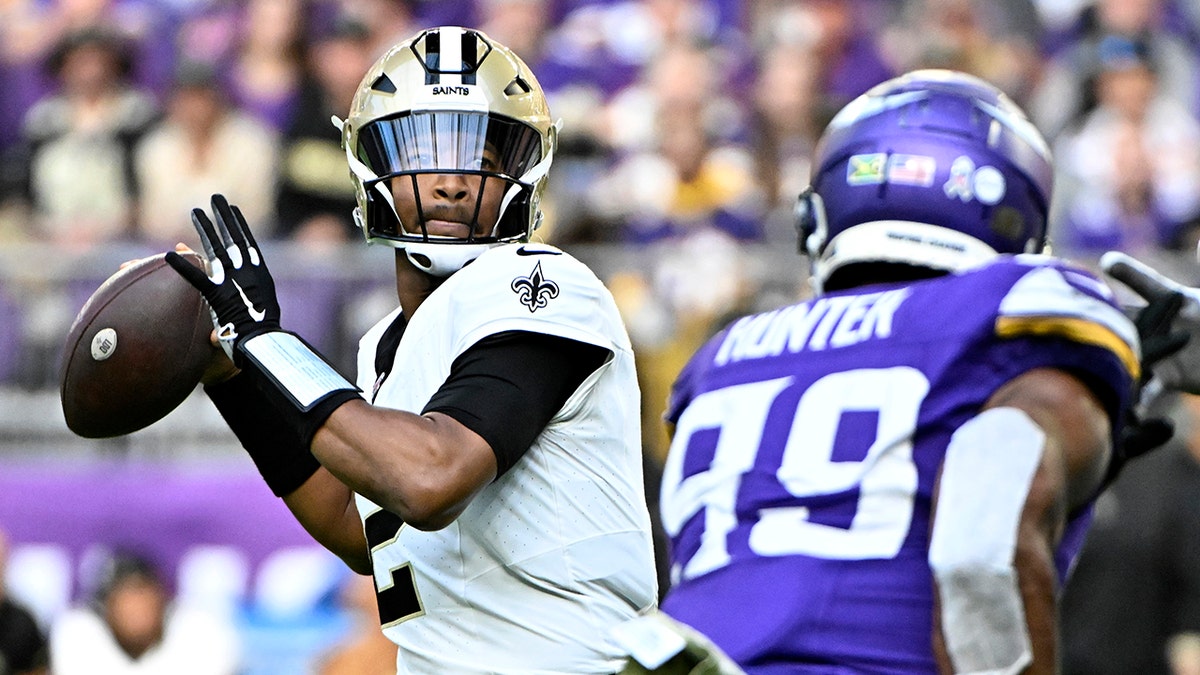 Dobbs and the Vikings just couldn't get anything going, punting on four straight drives to end the second half. But Winston's crux has always been interceptions, and the Vikings' defense was able to pull off two on back-to-back possessions. 
Winston tried a Hail Mary with six seconds left in the game, but the Vikings thwarted the miracle attempt to pick up their sixth win of the season. 
Winston was 13-for-25 for 122 yards with two touchdowns and two interceptions. Olave, who ended the first half without a catch, had six for 94 yards with his touchdown. 
Meanwhile, Hockenson finished with 134 yards on 11 catches to lead the Vikings while Jordan Addison had 69 yards on four catches.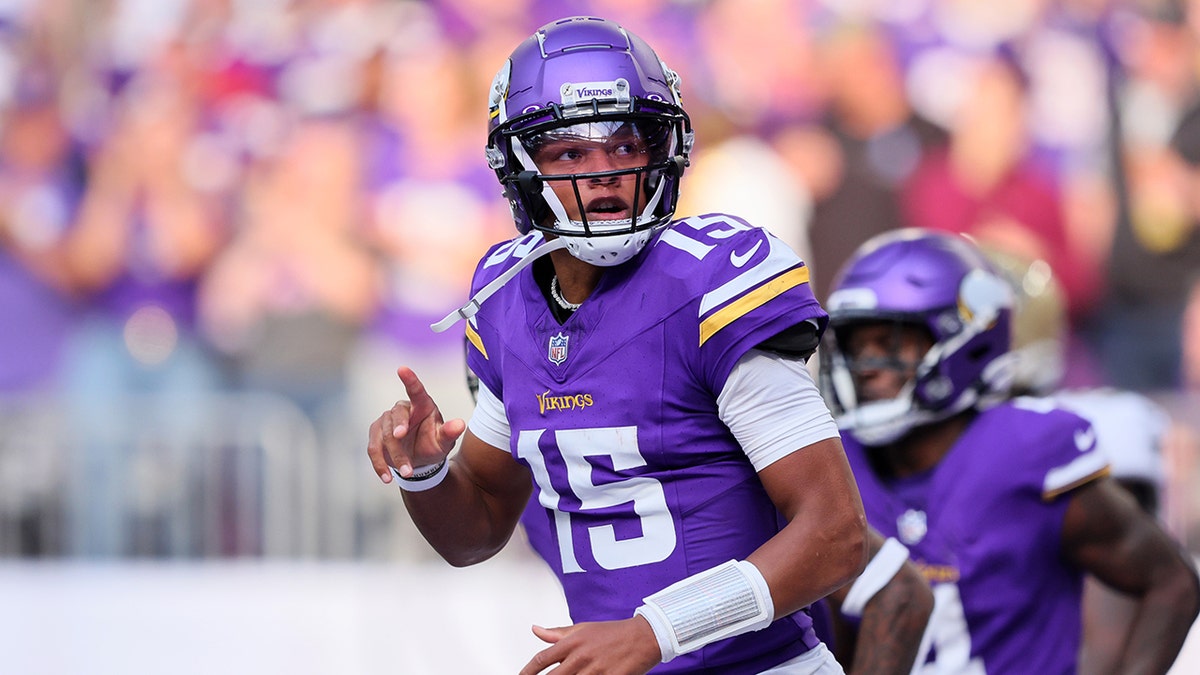 The Vikings, winners of five straight games now, will aim to keep that streak going next week against the Denver Broncos on the road.
CLICK HERE TO GET THE FOX NEWS APP
The Saints, who might have a quarterback question to answer during the week, get their bye before facing the Atlanta Falcons on Nov. 26.