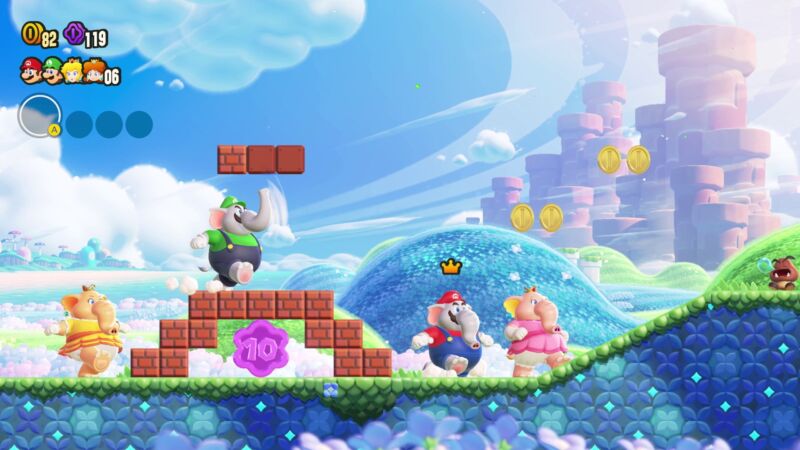 I have 100 percent cleared all four New Super Mario Bros. games, including the Super Luigi U expansion, so I'd say that I have enjoyed them all. But that "New" in the title could feel unearned; most of the games, especially the Wii and Wii U/Switch versions, felt like remixes of ideas that had been dreamed up for Super Mario Bros. 3 and Super Mario World decades before. Three-dimensional Mario was for experimentation and pushing boundaries; two-dimensional Mario was for playing a (thoughtfully designed, fun) riff on a thing that children of the '80s and '90s had probably played before.
Super Mario Bros. Wonder is not that kind of 2D Mario game. Yes, it's still a side-scrolling platformer, and yes, anyone who has played a New SMB game will immediately be familiar with the basics. But the rules of movement and progression have been changed through a combination of new power-ups, additive "badges" that customize your character, and "Wonder Flowers" that fling every single level into a state of psychedelic chaos. It's two-dimensional Mario that, for the first time in a very long time, is trying something that feels new.
Nintendo set up a demo session for previewers to get around 25 minutes of guided hands-on time with the game, during which I played a handful of levels from early in the game and a couple of levels from later worlds. I was only able to play a small and pre-selected sliver of what is in the game, but that's enough to say that it definitely doesn't just feel like another New Super Mario Bros. sequel.
I wonder what's new?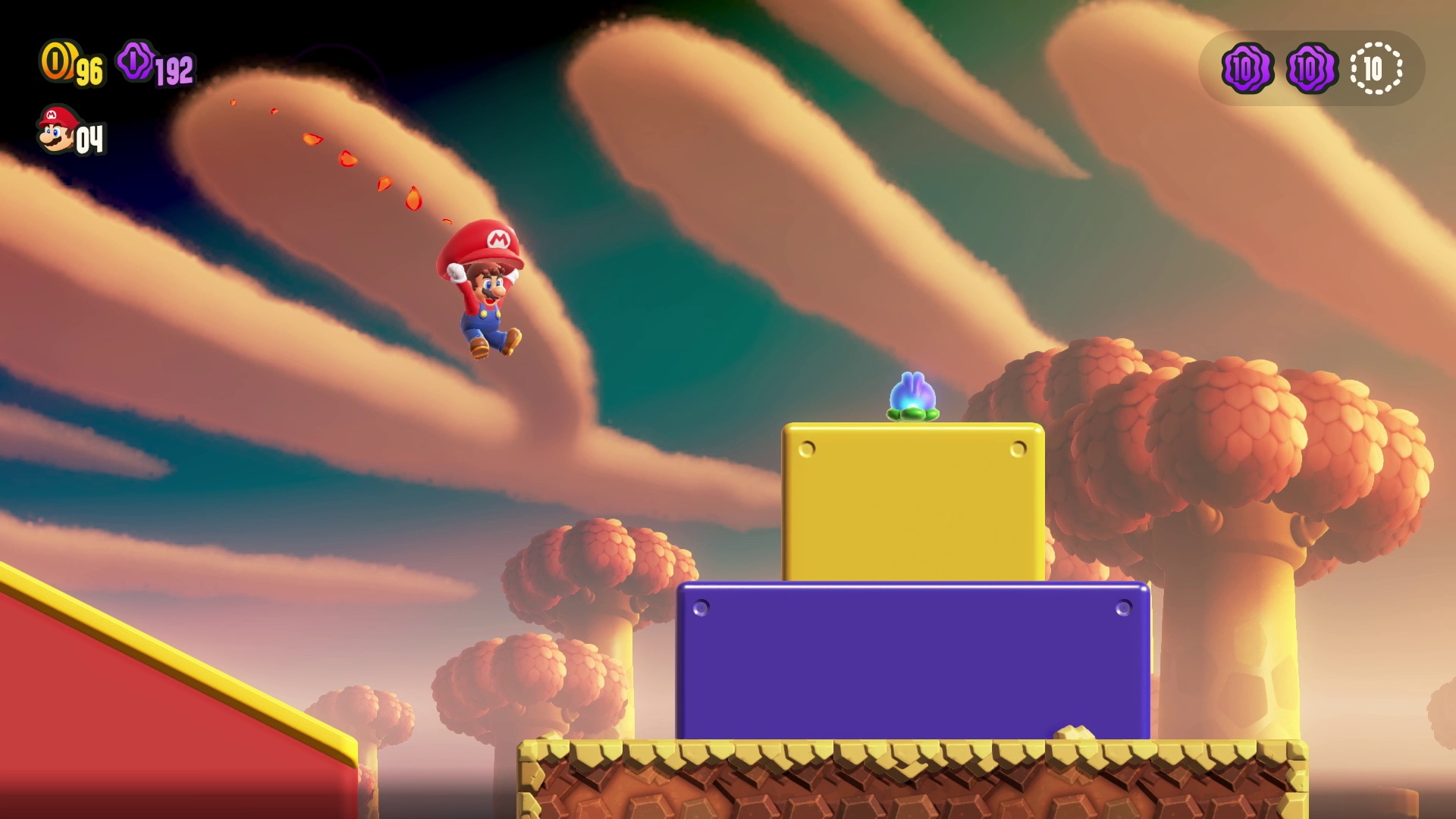 The core Mario gameplay loop is here: run, jump on heads, go down pipes, eat things you find in boxes to make yourself more powerful. Levels usually end with a flagpole that you leap onto, and there are several hidden items in each level that completionists will need to find in order to 100 percent the game. But beyond that, the game throws in several complications that can change how the game is played on the fly.
The first is badges. These are items you equip your character with before you enter a level. The types I saw could either give you some kind of a bonus—a power-up right at the start, for example—or change your character's movement in some way. One badge could help you hover for longer in midair, handy for tricky horizontal leaps. Another could increase the height of your jump if you crouched first. Others increase your swim speed or even allow you to toss out vines to use as grappling hooks.
This isn't the first Mario game to allow characters to move in unique ways, but it's interesting for those differences to be assigned to swappable badges rather than innate to the characters. Badges are also persistent rather than single-use, so once you get them (generally by buying them with purple flower coins or playing specific challenge levels to earn them), you get to keep them.
Wonder Flowers kick off fun, chaotic effects. They can change the level, or change your character, or change the mechanics of how the game is played.


Nintendo

Playing as a slow, death-prone Goomba gave me a lot of sympathy for their plight.


Nintendo

Sometimes the level begins to shift beneath your feet.


Nintendo
The second complication, and the one the game is named for, is the Wonder Flower. There's one in every level, and each one changes the game's rules in some specific way. Sometimes the levels change—a herd of enemies will come stampeding at you or all the pipes will start wriggling around like worms. Other times, they change your character; in one level, I became a Goomba, unable to jump high or move fast but able to walk over spikes and fit in tight places. In another, I became a floating balloon (not all of these ideas are totally new).
These Wonder Flowers do have the benefit of giving each level a distinct feel. I can't recall many individual New Super Mario Bros. courses off the top of my head, but it will be easy to remember "the one where Mario becomes a rolling spiky ball of death." These Wonder Flower sequences draw focus from the basic platforming that some longtime players might be here for, but the balance between the platforming and Wonder Flower parts of each level felt about right to me.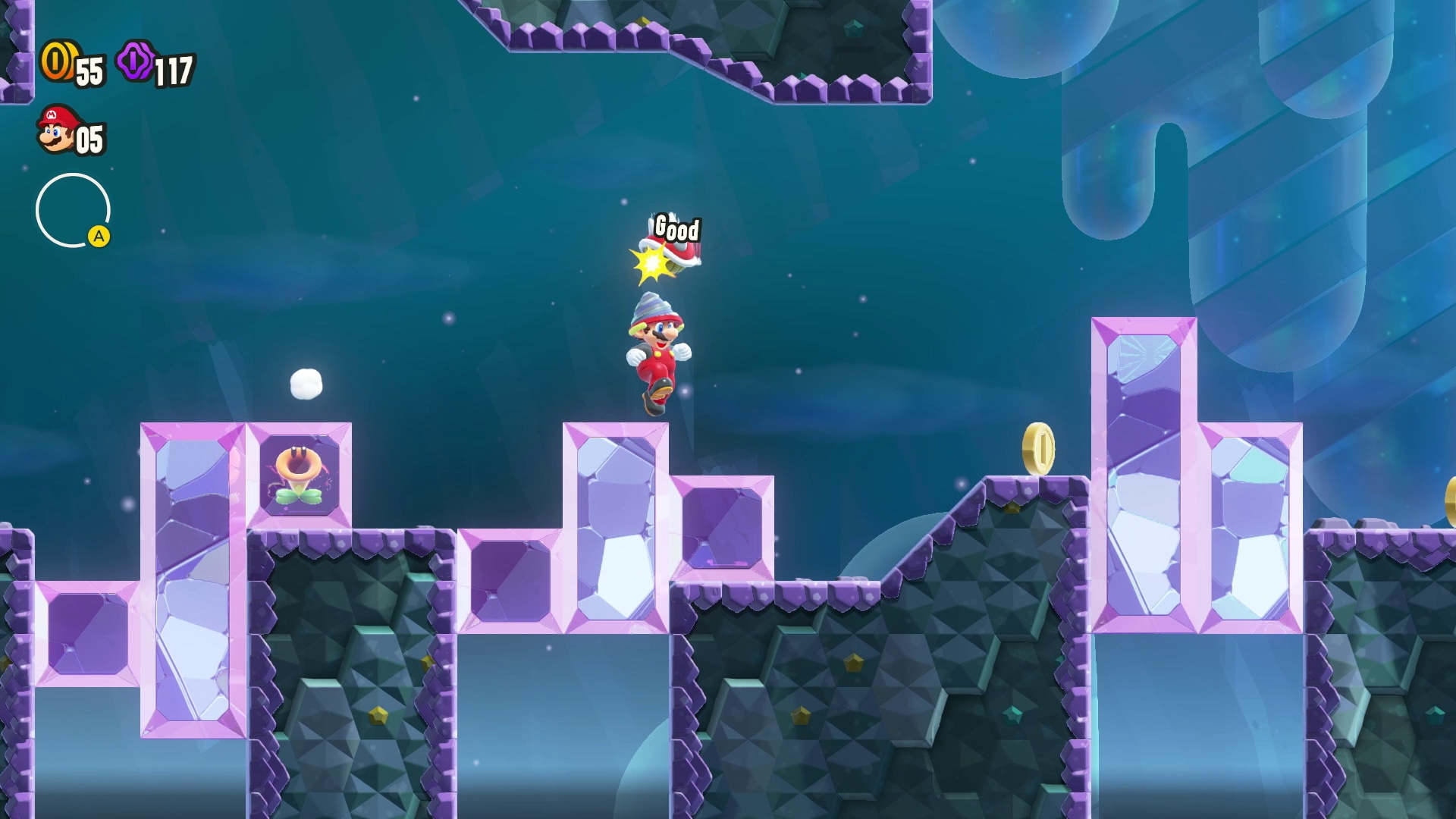 The last new thing is a handful of new power-ups. The elephant apple power-up has drawn the most attention because it changes your character into a big chonky elephant that can swing its trunk to smash bricks or spray water. But there's also a bubble-spitting power-up—the bubbles you throw can encase enemies, or you can hop on them to give yourself an extra midair bounce. And a drill hat gives you protection from enemies overhead, smashes certain obstacles, and can let you burrow into the ground (or ceiling) to bypass enemies or find secrets. They all feel more interesting than New SMB additions like the ice flower or the Super Acorn, which mostly felt like riffs on NES-era power-ups.