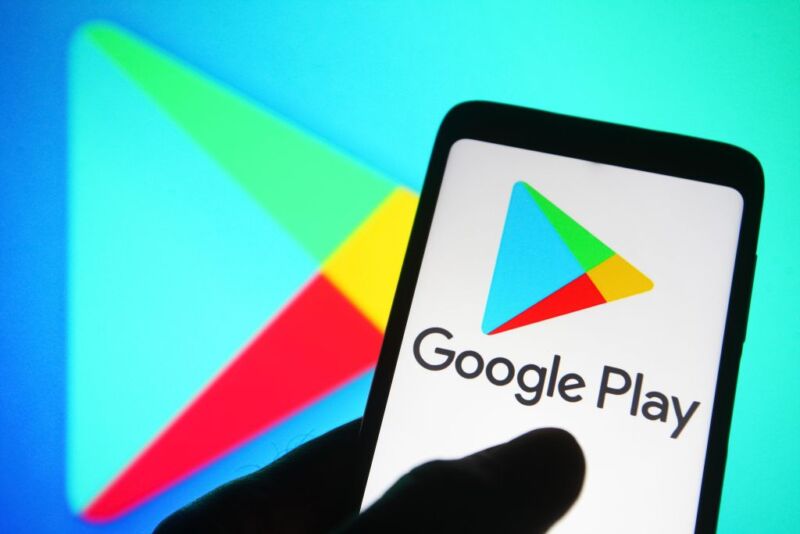 A US district judge has reversed course, revoking a 2022 class action status order for 21 million Google Play Store customers who alleged that Google "artificially inflated" prices for Android apps that could have been downloaded cheaper outside the Play Store.
Yesterday, Judge James Donato ordered the class action cancelled after he said that new evidence showed that key expert testimony that plaintiffs relied on to claim that prices were inflated was "based on assumptions about the Play Store apps that are not supported by the evidence."
Because the expert testimony—which came from antitrust expert Hal J. Singer—failed a reliability test, it must be excluded, Donato said. Now it seems likely that plaintiffs may have to "dramatically reduce potential damages" in the case, which Singer had previously estimated could amount to billions, Bloomberg reported.
Singer told Ars that he cannot comment on the decision to exclude his testimony, because "the matter is still ongoing."
Donato's order has not yet been finalized because a federal court is currently weighing a separate appeal on the class action certification. In the coming weeks, both parties have been directed to meet and find a solution to resolve that separate appeal before a Sept. 7 hearing.
A Google spokesperson told Ars that the company appreciates "the court's careful consideration of this issue," because contrary to consumers' claims, "Android increases openness and choice to the benefit of consumers."
"We look forward to continuing to make our case," Google's spokesperson told Ars.
Google swapped experts to fight class action
A court filing discussing the merits of Singer's expert testimony revealed that Google succeeded in excluding Singer from the record by swapping in a new expert.
Economist Gregory K. Leonard was able to more strongly dispute Singer's testimony than Google's previous expert, economist Michelle Burtis—whose testimony failed to stop the class action status from being certified initially.
Burtis seemingly failed because she did not label the model that Singer used to estimate Google's alleged overcharges to consumers as "junk science." Instead, Burtis acknowledged that Singer's model "exists in the literature" and was a model that economists used, convincing the court that Singer's testimony was admissible.
"Regarding this model, I would say, I don't think this model itself is junk science," Burtis told the court during the initial class action certification hearing. "I wouldn't say that. All I'm saying here is that, you know, Dr. Singer, he didn't try to adapt the model, to really test the issue of common impact here. He didn't do anything to test."
Donato said that Burtis only offered criticisms of Singer's testimony "that went to the weight of his opinions, and not to admissibility." Leonard, on the other hand, "took a fresh look" at Singer's opinions and told the court that they make "no economic sense at all."
According to Leonard, Singer's model for estimating price inflation yields "unreliable results" because Singer's model assumed that all of the apps listed within Google Play Store categories are suitable substitutes for each other.
Leonard used an example of three apps listed in the Education category—Rosetta Stone, Duolingo, and Picture This–Plant Identifier—to demonstrate why Singer's testimony should be excluded. He said that according to Singer's logic, if an app with a large category share raised its price, some customers would simply substitute it with another app in the category with a larger category share.
This model, Leonard said, did not necessarily reflect the real world and made "no economic sense," because it suggested that if a language app like Duolingo—which has a 15 percent category share—raised its price, customers would substitute it with another popular app like Picture This–Plant Identifier—which has a 20 percent category share—just because it has a larger category share. To Leonard, it seems much more likely that customers would substitute another language app like Rosetta Stone—which has a less than 5 percent category share. Because of this problem with Singer's logic, Leonard said the entire model was unreliable, calling into question Singer's estimates for alleged app overcharges.
Donato agreed that Leonard was highlighting "a fundamental problem" that a jury would have if Singer was allowed to testify at trial.
"It may be possible for a jury to make reasonable decisions about the substitutability of certain apps at a very high and general level, but Dr. Singer's analysis does not provide usable guidance on what to do with the myriad of differences and distinctions between apps within the Google Play Store categories," Donato wrote. "He does not provide any boundaries on substitution in broad app categories that contain many unlike products. This would create a serious risk of the jury simply guessing about proportionate substitution and ultimately the… fees to consumers."
While Donate wrote that the court had "some misgivings about Google taking a second shot at Dr. Singer's testimony with a new witness," he pointed out that Singer did not "seriously dispute" Leonard's testimony.
"The path to a fair result often has some turns, particularly as the record develops in a complex antitrust dispute such as this one," Donato said.