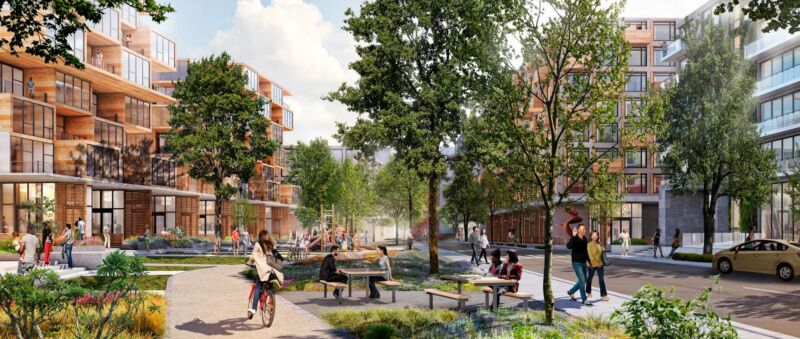 Google has ended an agreement with a developer to build 15,000 homes in the San Francisco Bay Area, including affordable housing, as it continues a string of cost-cutting moves to reduce real estate costs. Google said it is "looking at a variety of options" to provide housing despite ending the development deal but didn't offer specific details on its plans.
Google partnered with the Australian company Lendlease in 2019 on a $15 billion plan for "residential, retail, hospitality, and community development space," with an expected completion date of 2038. Lendlease was to be the developer, builder, and owner of the residential, retail, hospitality, and community components, while Google also planned a related office expansion. Including office space, the developments could have covered 15 million square feet.
But on Friday, Lendlease and Google announced that they "mutually reached an agreement to end the Development Services Agreements of the four master-planned districts in San Jose (Downtown West), Sunnyvale (Moffett Park), and Mountain View (Middlefield Park and North Bayshore) in the San Francisco Bay area in California, collectively referred to as the San Francisco Bay Project." Google is making a payment to Lendlease as part of the agreement to part ways.
The Google plan that Lendlease was involved in calls for up to 7,000 homes in North Bayshore, including 1,050 affordable units; 4,000 homes in Downtown West, including 1,000 affordable units; and 1,900 homes in Middlefield Park, including 380 affordable units. That would presumably leave 2,100 homes for Sunnyvale, but Google's description of the project doesn't specify the number of homes in that city.
A Google spokesperson told us today that the company will work with developers and capital partners to move its Bay Area developments forward, despite ending the Lendlease deal. But Google declined to answer our specific questions about the number of homes that will be built now that the original partnership has been scrapped.
The decision to end these agreements followed a comprehensive review by Google of its real estate investments, and a determination by both organizations that the existing agreements are no longer mutually beneficial given current market conditions… Lendlease will remove the San Francisco Bay Project, which was expected to commence construction in FY26, from its development pipeline," the Lendlease announcement said.
Project was still on track in June
Lendlease was not the developer or builder in Google's related plan for new office buildings on a "megacampus" in San Jose. Google put the office-building plan on hold earlier this year, reports in April said.
In June 2019, Google CEO Sundar Pichai announced a plan to rezone a large part of Google's commercial and office land for residential housing and build "at least 15,000 new homes at all income levels in the Bay Area, including housing options for middle and low-income families." Pichai also announced a $250 million investment fund to "provide incentives to enable developers to build at least 5,000 affordable housing units across the market."
A June 2023 update from Google said the company still planned "to support the creation or preservation of 20,000 homes." Google said its "work with local elected officials and residents to rezone $750 million worth of our land has paved the way for up to 12,900 units to be built in Mountain View and San Jose as part of our mixed-use development plans." Google also said it had allocated over $133 million of the $250 million fund to "more than 3,800 units across 29 affordable housing projects."
Exactly how many of the 20,000 planned homes could still be built is unclear. "As we've shared before, we've been optimizing our real estate investments in the Bay Area, and part of that work is looking at a variety of options to move our development projects forward and deliver on our housing commitment. We appreciate Lendlease and the work the team has done to get us to this point," Alexa Arena, senior director of development at Google, said in a statement provided to Ars today.
Google's pullback comes amid a rise in surplus office space.
Silicon Valley companies are dumping office space at an accelerating pace, as tech leaders such as Google and Facebook parent Meta Platforms close locations and reassess their commitments to the workplace," The Wall Street Journal wrote in June. "Office-vacancy rates in Silicon Valley, which includes the Northern California communities of San Jose, Palo Alto and Sunnyvale, were up to 17 percent in June from 11 percent in 2019, according to data firm CoStar Group." The vacancy rate had surpassed 20 percent in Menlo Park and Mountain View.