When the New York Giants and New York Jets played their annual "Snoopy Bowl" at MetLife Stadium to wrap up their preseason schedule, all eyes were on the shiny new quarterback in green and white who took the field for the first time. 
Aaron Rodgers has breathed new life into a franchise that owns the longest playoff drought in American sports at 12 years. The Jets also signed guys like Dalvin Cook, Allen Lazard, Randall Cobb and others, which vaulted their status to Super Bowl contender instead of simply reaching the playoffs. 
Rodgers and his presumed favorite target this season, Garrett Wilson, hooked up for a touchdown among their connection this past Saturday against the Giants' backups on defense, and cheers flooded the stadium. On the other sideline, Giants star running back Saquon Barkley understood why the hype is so real for his MetLife Stadium counterpart. 
CLICK HERE FOR MORE SPORTS COVERAGE ON FOXNEWS.COM
"I was a Jets fan going up, so I can see why there's a lot of buzz going on," Barkley told Fox News Digital at a promotional even in New York City on Sunday. "Having a guy like Aaron Rodgers, that caliber of player that he is, the type of talent that he is. They got a good thing going over there, and it's going to be fun when we get to play them in a couple weeks in October."
The Jets have been getting all the exposure this season as the NFL's most popular team, from the Rodgers acquisition, to their "Hard Knocks" episodes on HBO each week. All eyes in the New York and national media are focused on everything the Jets do. 
GIANTS' SAQUON BARKLEY CONTINUES TO CHASE GREATNESS – NOT HIS NEXT CONTRACT
Yet, some seem to forget that the Giants were one of the final eight teams playing in the NFL last season. They broke their own playoff drought and won their wild card game against the Minnesota Vikings, as Coach of the Year Brian Daboll led the way for an organization that turned the tide. 
The Giants upgraded their roster, too, heading into the new season, and they have playoff goals yet again despite a tougher schedule in 2023. So all the Jets hype doesn't matter to Barkley, who's focused on his own squad. 
"I don't care for it to be honest," Barkley said when asked how he felt about the Jets receiving all the hype in New York as opposed to the Giants. "That's just not really what matters. All that matters is going out there and winning football games and the rest is going to take care of itself."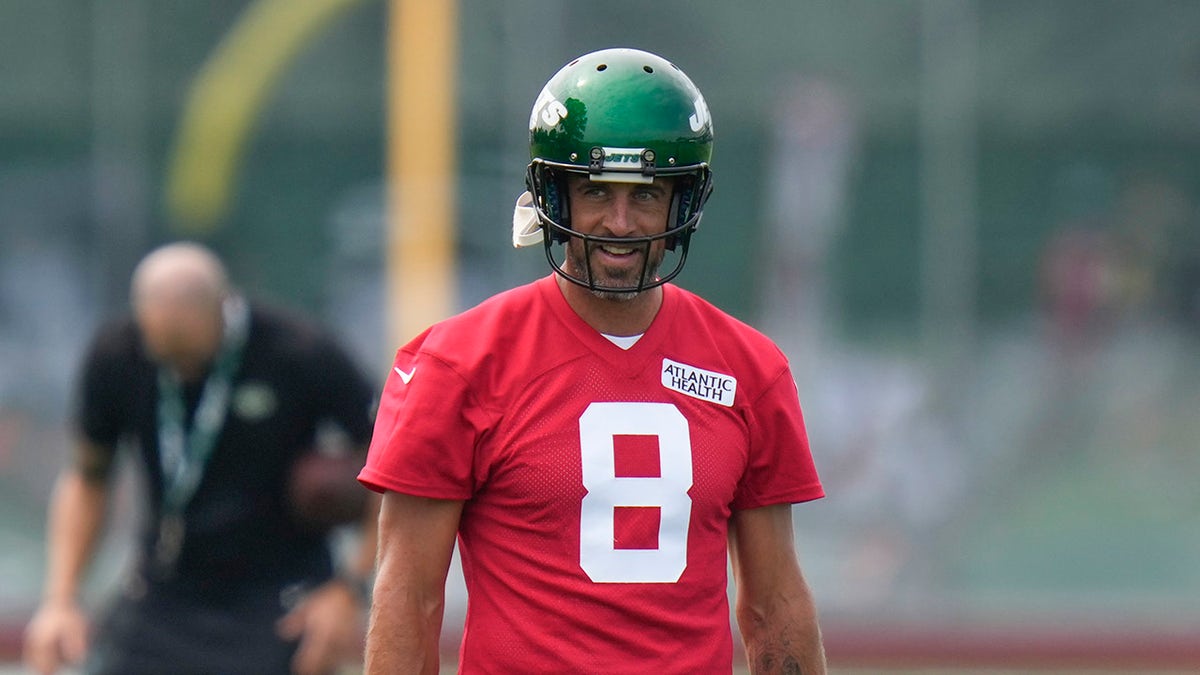 He continued: "At the end of the day, can't really get too caught up in that. Whether you're hyped as a team, or get no love, and they don't expect you to be in the playoffs like we were last year, the only thing that matters is coming to work every single day, believing in the system, having that trust that we have with each other as teammates, as brothers, and continue to have the mindset that it really doesn't matter what everyone is saying."
Simply put, the record says all when the season gets going, and that's what Barkley believes will happen with the Giants.
GIANTS' SAQUON BARKLEY HOPEFUL JONATHAN TAYLOR IS TRADED TO TEAM 'THAT RESPETS HIM AND VALUES HIM'
When it comes to the quarterback position, of course the future Hall of Famer in Rodgers is going to give the Jets a very good chance to win. But Daniel Jones, the Giants' franchise man at the position, has been counted out since he was drafted sixth overall by the team four years ago. 
Barkley doesn't get it, but he's not going to complain because Jones' focus hasn't wavered, especially after his breakout season in Daboll's and offensive coordinator Mike Kafka's system. 
"I feel like DJ's been counted out a majority of his life," Barkley said. "He's a walk-on quarterback to Duke. He gets drafted to the New York Giants and everyone thinks he's not going to be worth a thing at all. I think he silenced all those critics. I don't want to speak for DJ, but he's going to come in every single day with the same mindset: Be a leader that we need. You can see that. His swagger is going a little bit more after being involved in the system."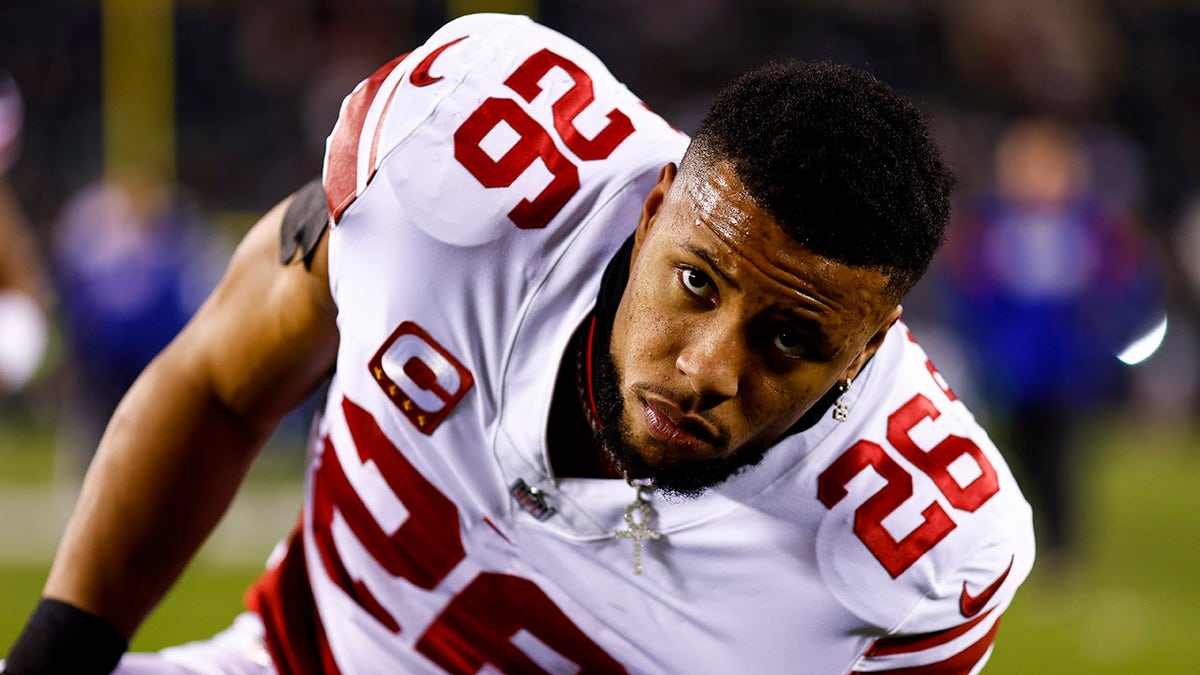 CLICK HERE TO GET THE FOX NEWS APP
So, whether fans and experts are high on the Giants or not, doesn't faze Barkley in the slightest. And that's especially true when comparing the Jets' expectations to the Giants' before the season begins.