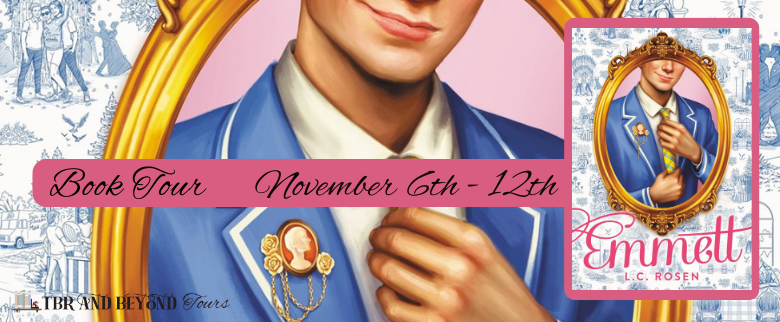 Welcome to my stop on the blog tour for Emmett by L.C. Rosen.  This tour is being hosted by TBR and Beyond Tours.
Emmett by L.C. Rosen
Genre: Young Adult Contemporary
Publishing Date: November 7, 2023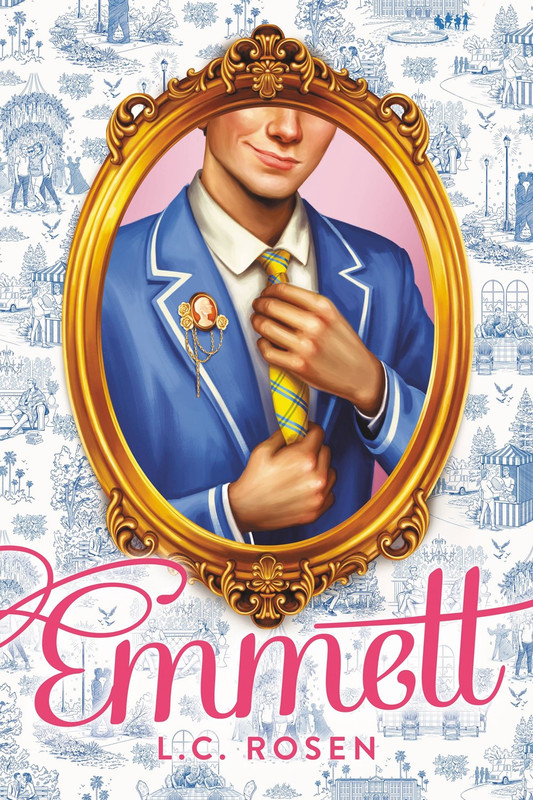 A modern-day gay  Emma , with the spikey social critique of Austen plus the lush over-the-top romance of  Bridgerton.
Emmett Woodhouse, handsome, clever and rich, with a comfortable home and happy disposition seemed to unite some of the best blessings of existence and had lived nearly eighteen years in the world with very little to distress or vex him.

Emmett knows he's blessed. And because of that, he tries to give from charity work to letting the often irritating Georgia sit at his table at lunch, he knows it's important to be nice. And recently, he's found a new way of giving matchmaking. He set up his best friend Taylor with her new boyfriend and it's gone perfectly. So when his occasional friend-with-benefits Harrison starts saying he wants a boyfriend (something Emmett definitely does NOT want to be), he decides to try and find Harrison the perfect man at Highbury Academy, the candy-colored private school they attend just outside Los Angeles. 

Emmett's childhood friend, Miles, thinks finding a boyfriend for a guy you sleep with is a bad idea. But Miles is straight, and Emmett says this is gay life – your friends, your lovers, your boyfriends – they all come from the same very small pool. That's why Emmett doesn't date – to keep things clean. He knows the human brain isn't done developing until twenty-five, so any relationship he enters into before then would inevitably end in a breakup, in loss. And he's seen what loss can do. His mother died four years ago and his Dad hasn't been the same since. 

But the lines Emmett tries to draw are more porous than he thinks, and as he tries to find Harrison the perfect match, he learns that gifted as he may be, maybe he has no idea what he's doing when it comes to love. 

Modern and very gay, with a charmingly conceited lead who is convinced he knows it all, and the occasional reference to the classic movie  Clueless, Emmett  brings you lush romance all while exploring the complexities of queer culture—where your lovers and friends are sometimes the same person, but the person you fall in love with might be a total surprise.
Content Warning: grief, parent died of cancer, blood/needles
Book Links:
Goodreads: https://www.goodreads.com/book/show/103455031 
Amazon: https://www.amazon.com/Emmett-L-C-Rosen/dp/0316524778/ 
Barnes & Noble: https://www.barnesandnoble.com/w/emmett-l-c-rosen/1143031733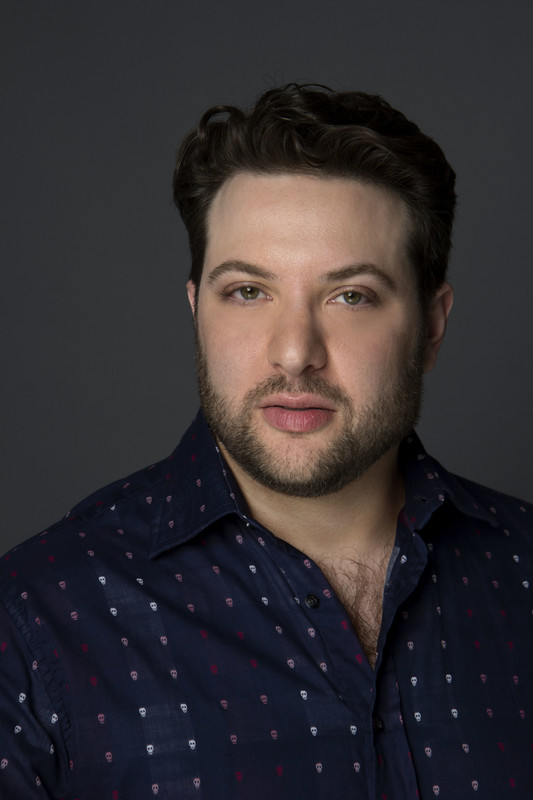 Lev Rosen writes books for people of all ages, most recently YA archeological adventure Lion's Legacy and Lambda and Anthony Awards finalist Lavender House, which the New York Times says "movingly explores the strain of trying to pass as straight at a time when living an authentic life could be deadly" and was a Best Book of the Year from Buzzfeed, Library Journal, Amazon, Bookpage, and others. His prior novel, Camp, was a best book of the year from Forbes, Elle, and The Today Show. His next book, The Bell in the Fog will be released in October, followed by YA rom-com Emmett in November. He lives in NYC with his husband and a very small cat.
Author Links:
Website: https://www.levacrosen.com/ 
Twitter: https://twitter.com/levacrosen 
Instagram: https://www.instagram.com/levacrosen/ 
Goodreads: https://www.goodreads.com/author/show/4731557 
Follow The Tour:
TOUR SCHEDULE
November 6th
Never Hollowed By The Stare – Promotional Post
November 7th
Forever In A Story – Review, Mood Board
November 8th
Confessions of a YA Reader – Promotional Post
November 9th
Nonbinary Knight Reads – Review, TikTok
Jen Jen Reviews – Review
November 10th
deepireads – Review
November 11th
unconventional quirky Bibliophile – Promotional Post
November 12th
Twirling Book Princess – Promotional Post
Instagram
November 6th
thebookviewblog – Promotional Post
temmathomas – Review
laurensbookvibes – Promotional Post
November 7th
library_teacher – Promotional Post
cozywandertales – Promotional Post
kerasalwaysreading – Review
foreverinastory – Content Creator's Choice
November 8th
tbrandbeyond – Promotional Post
allielovestoread – Promotional Post
travelersguidetobooks – Review
November 9th
dreaminginpages – Promotional Post
nonbinaryknightreads – Content Creator's Choice
jenjenreviews – Content Creator's Choice
November 10th
bookdemonio – Promotional Post
shariva.writes – Review
deepireads – Content Creator's Choice
November 11th
whatkarinareads – Review
rickys_radical_reads – Promotional Post
gsreadingspree – Review
quirkybibliophile – Content Creator's Choice
November 12th
ninebookishlives – Promotional Post
jewishyabooks – Review
ohyouread – Promotional Post