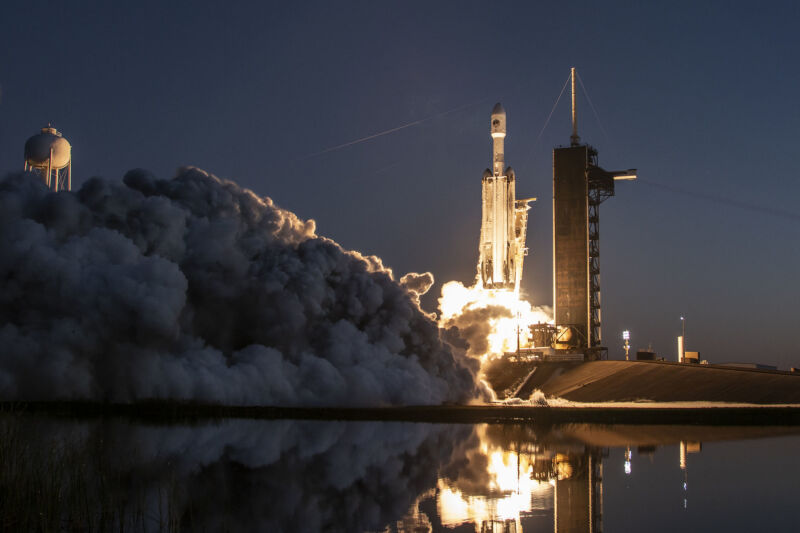 The US Space Force this week awarded a massive round of launch contracts to two companies to carry its national security satellites and other payloads into orbit over the next several years.
As part of this package, United Launch Alliance (ULA) received 11 launch contracts worth a total of $1.30 billion, and SpaceX got 10 missions worth $1.23 billion. These values include the cost of launch services, mission integration, and "mission success" incentives. The ULA launches will all occur on the company's new Vulcan rocket, while seven of the 10 SpaceX missions will fly on the Falcon 9, and three will fly on the company's larger Falcon Heavy booster.
One of the main intrigues in national security launch is whether the ongoing delays of the Vulcan rocket—which was originally due to launch in 2020—would impact the share of launches ULA received from the government. And based on the latest data, this appears to have happened. Instead of receiving an anticipated 60 percent of launch orders from 2019 to 2023, ULA has only received 54 percent from the military. This amounts to three fewer launches, or a lost value of about $350 million.
Unpacking NSSL Phase 2
Let's back up and briefly explain how the US military doles out launch contracts. For a long time, the Department of Defense had just one contractor—ULA—to get its military communications and spy satellites into space. About a decade ago, SpaceX sued the government to be allowed to compete for military launch contracts, and this opened the door to competition.
In 2020, this competition resulted in "Phase 2" of the National Security Space Launch program. For launches from 2022 through 2026, the military said it would award 60 percent of launch contracts to ULA and 40 percent to SpaceX. This was predicated on the Vulcan rocket making its debut in 2021 and being certified for national security launches (a process that requires two test flights) in 2022. However, after a series of problems, Vulcan will now not make its debut until at least December and probably will not be certified until late next year.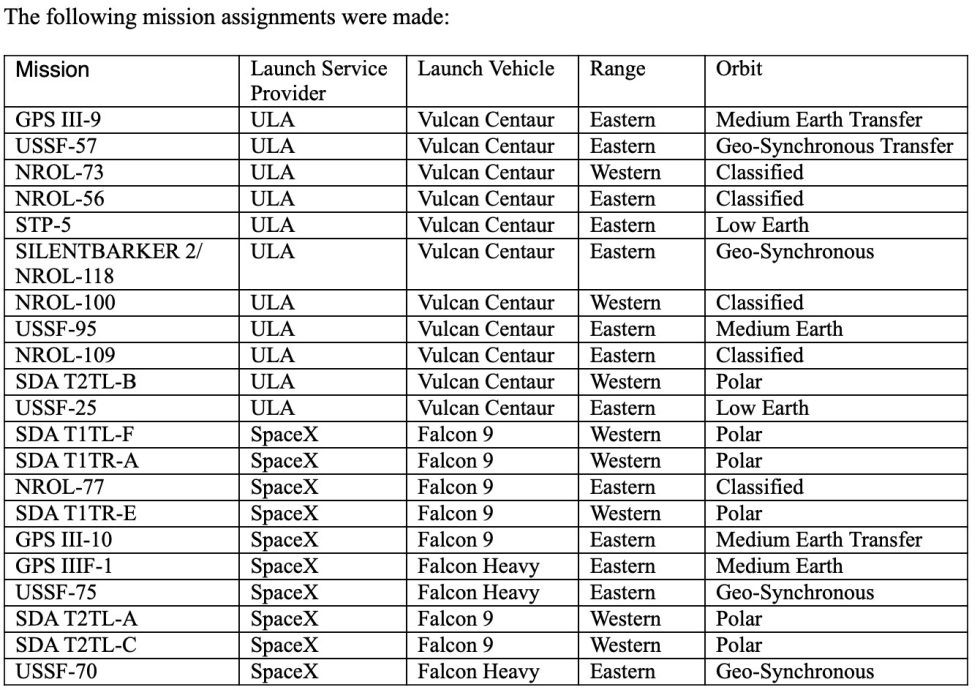 With this week's announcement, the Space Force has completed its orders for launches under Phase 2. So we know that SpaceX won 22 contracts, or 46 percent of the awards, and ULA won 26 total contracts, or 54 percent of the launch contracts.
The question is why?
"Cannot leave capability sitting on the ground"
Ars asked the Office of Public Affairs at Space Systems Command if the contract disparity was due to Vulcan's delay. In a written response, Col. Doug Pentecost, deputy program executive officer for the Assured Access to Space program office, did not come right out and say that ULA won fewer contracts.
But he more or less did say that.
"The USSF maintains a close partnership with our Launch Service Providers to meet launch requirements and ensure the successful delivery of critical assets to our warfighters," Pentecost said. "It is imperative to rapidly deliver critical space capabilities to the Joint Warfighter as soon as they are ready to be launched—we cannot leave capability sitting on the ground."
According to Pentecost, the government considered "multiple factors" in the mission assignment analysis process, including the maturity of launch systems, the production capability of the two companies, and the ability to meet the order year launch demand. Essentially, then, the military appears to have had more confidence in SpaceX's mature Falcon 9 and Falcon Heavy programs than it did in the unproven Vulcan rocket. This is understandable, given that Vulcan still is not flying.
The whole procurement rodeo has since begun anew, with "Phase 3" of the national security launch process. After the successful on-ramp of SpaceX, the Space Force is looking to lean even further into commercial space, creating two lanes—one for its most important and valuable satellites and another for more experimental missions that will be open to less established providers.
The military expects to announce awardees for Phase 3, which will cover launch contracts in the late 2020s and early 2030s, sometime next year.