It has been fun to watch Virgin Galactic string together six flights to suborbital space this year. The company was founded by Richard Branson in 2004 to open the experience of spaceflight to everyday people and make some money in the process. Virgin Galactic hasn't achieved those goals yet, but the company has reason to celebrate its successes over the last six months.
There is sometimes ribbing of Virgin Galactic and Blue Origin from space enthusiasts because they don't fly astronauts or payloads into orbit, and they cater to wealthy clients. Passengers on a Virgin Galactic or Blue Origin flight experience a few minutes of weightlessness as they reach the apex of a trajectory that, in Virgin Galactic's case, barely breaks the 80-kilometer (50-mile) threshold, the altitude where space begins, based on the US government's definition.
But they offer access to microgravity and the space environment at a fraction of the cost of an orbital flight. Instead of several tens of millions of dollars per seat, we're talking about $450,000 for a ride to space with Virgin Galactic. Blue Origin costs a bit more.
That's still out of the price range for most of the population. Unless you are a professional astronaut, independently wealthy, or find a sponsor, you aren't going to space just yet. But the ticket price is within reach for many universities and scientific institutions looking to do research on a budget.
Virgin Galactic has accomplished this sequence of six missions while its main competitor in the suborbital market—Jeff Bezos' Blue Origin—remains grounded after a New Shepard rocket failure nearly 14 months ago during a launch of untended research payloads. There were no passengers on board during Blue Origin's launch failure.
The latest Virgin Galactic mission Thursday carried six people—three company employees and three passengers—to an altitude of 54.2 miles (87.2 kilometers) after the SpaceShipTwo rocketplane dropped from the belly of a jet-powered carrier aircraft high over New Mexico. After a minute-long burn of its hybrid rocket motor, SpaceShipTwo coasted to apogee and then descended back to Earth for landing on a runway at Spaceport America, near the White Sands Missile Range.
Familiar faces
The passengers on SpaceShipTwo Thursday included Alan Stern, a planetary scientist perhaps most famous for leading NASA's New Horizons mission, which completed the first robotic exploration of Pluto in 2015. Stern is also an entrepreneur and space industry consultant. He managed all of NASA's science programs during a stint at the agency's headquarters in 2007 and 2008, and now is a vice president at Southwest Research Institute in Boulder, Colorado.
Because he's involved in so many facets of the industry, Stern is a familiar face to space reporters. I can tell you it hits differently when someone you know, even on a professional basis, is aboard a spacecraft when it lights its rocket motor to climb into space.
There was another passenger on Thursday's flight, called Galactic 05, who some space enthusiasts might recognize. Kellie Gerardi, another veteran of the aerospace industry, an author, and a popular science communicator, flew as a payload specialist on behalf of the International Institute for Astronautical Sciences. She took along three payloads: two to "evaluate novel healthcare technologies in microgravity conditions through the collection of biometric data with the Astroskin biomonitoring device," and one to study how confined fluid behaves in microgravity to inform future health care technologies.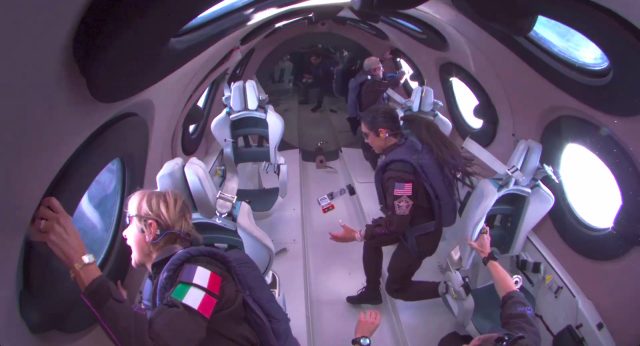 Stern, who applied for NASA's professional astronaut corps six times but never made the cut, used Thursday's flight as a training run before he flies again next year on a research mission funded by NASA's Flight Opportunities program. Stern's seat Thursday was paid for by his employer, the Southwest Research Institute.
"It's unusual, maybe even unique, to fly a space mission purely as a training exercise," Stern wrote in a blog post for the Space Review. "But that's a testament to the increasing normalization of spaceflight."
Stern used the opportunity as a familiarization exercise to get used to Virgin Galactic's training and operations. He took with him a mock-up of an astronomy payload he will carry on his next Virgin Galactic flight and wore a biomedical harness to collect physiological data.
Some assessments have shown the cost of doing research on a suborbital human spaceflight vehicle, like the ones flown by Virgin Galactic or Blue Origin, is about one-tenth the cost of flying a fully automated science payload on a conventional suborbital sounding rocket.
"The success of this mission is another important step in the development of the scientific and educational use cases for commercial suborbital vehicles. The potential here is literally astronomical," Stern said in a statement.
Despite never flying in space until Thursday, Stern's career has taken him aboard fighter jets to perform astronomical research, to the South Pole, and even to the depths of the Atlantic Ocean to visit the wreck of the Titanic. Stern dived last year to the Titanic wreckage on the same OceanGate submersible that imploded on an expedition in June, killing all five inside.
The third passenger on Thursday's suborbital flight was Ketty Pucci-Sisti Maisonrouge, a Franco-Italian businesswoman and founder and investment manager of KFMG, an investment vehicle in retail and luxury startups. She purchased her seat on SpaceShipTwo. Commander Mike Masucci, pilot Kelly Latimer, and astronaut instructor Colin Bennett—all Virgin Galactic employees—crewed the rocketplane.
Virgin Galactic says it will take a couple of months off from spaceflight to perform annual vehicle inspections, then prepare for its next suborbital mission in January.