No matter the occasion, I take my party planning duties very seriously. I'll spend the weeks leading up to it painstakingly planning all the details from the theme to the menu to the decorations. When the day of the party arrives, it inevitably flies by in a frenzy of cleaning, prepping food and drinks, arranging the perfect spread, and stressing about every detail. It always takes so much time and effort, but I figure that's the price I have to pay for a great party. That is until I realized there was a better solution: Trader Joe's.
The last time I threw a party, I decided that instead of preparing a bunch of appetizers myself, I'd just pick up some frozen apps and snacks at Trader Joe's. I ended up buying all the food and drinks for the party at TJ's, and it was truly a game-changer. Being able to simply pop some appetizers in the oven and arrange stuff on platters made the whole process so much easier, and the food was a huge hit. That's when I realized Trader Joe's has so many other party-ready essentials that I could have been using this whole time. I won't make that mistake again—here are all the Trader Joe's items that will make hosting your next party so much easier.
1. Frozen Appetizers
Trader Joe's freezer section is hands-down the best part of the store IMO. There are so many delicious items that you can truly just heat and serve, and especially when you're hosting a party, that convenience cannot be beat. I'm partial to the Mini Vegetable Samosas, Gyoza Potstickers, and Butternut Squash Mac and Cheese Bites (which are sadly a seasonal item), but I've only just scratched the surface with all the frozen goodies TJ's has to offer.
2. Hummus and Dips
Our editors have sung the praises of Trader Joe's dip selection countless times, and it's not without warrant. There are so many to choose from, and you could plop any one of them into a bowl alongside some chips or crackers and have a standout party appetizer on the table in seconds. TJ's Vegan Nacho Dip, Roasted Garlic Hummus, Buffalo Chicken Dip, and Everything and the Elote Greek Style Yogurt Dip are particular favorites around here.
3. Cured Meats and Cheeses
Charcuterie is a staple at pretty much any party I'm hosting, and Trader Joe's is always my go-to source for meats and cheeses. If you have no idea what you're doing when it comes to building a charcuterie board, follow my hard-plus-soft rule. For every hard cheese (such as cheddar or gruyere), choose a soft cheese (like brie or camembert). Pair each firm cured meat (soppressata, for example) with something softer (like prosciutto).
If you're hosting just a few people, 1-2 of each is fine; for a bigger group, pick out a few items in each category. Then grab a couple of boxes of Fig & Olive Crisps or Garlic Naan Crackers and you've got yourself a simple yet impressive charcuterie board.
4. Wine
Unless budget is not a concern, a party is not the time to bring out your bougiest, most expensive wine. I don't know about you, but we tend to go through several bottles of wine at my parties, so there's no way I'm spending more than about $10 on each. Luckily, for cheap wine that doesn't taste cheap, Trader Joe's always delivers. My go-tos are the Emma Reichart Pinot Noir Rosé (which comes in at $4.99) and the Porta 6 Red (a bit more of a splurge at a whopping $5.99).
5. Mixers and Non-Alcoholic Beverages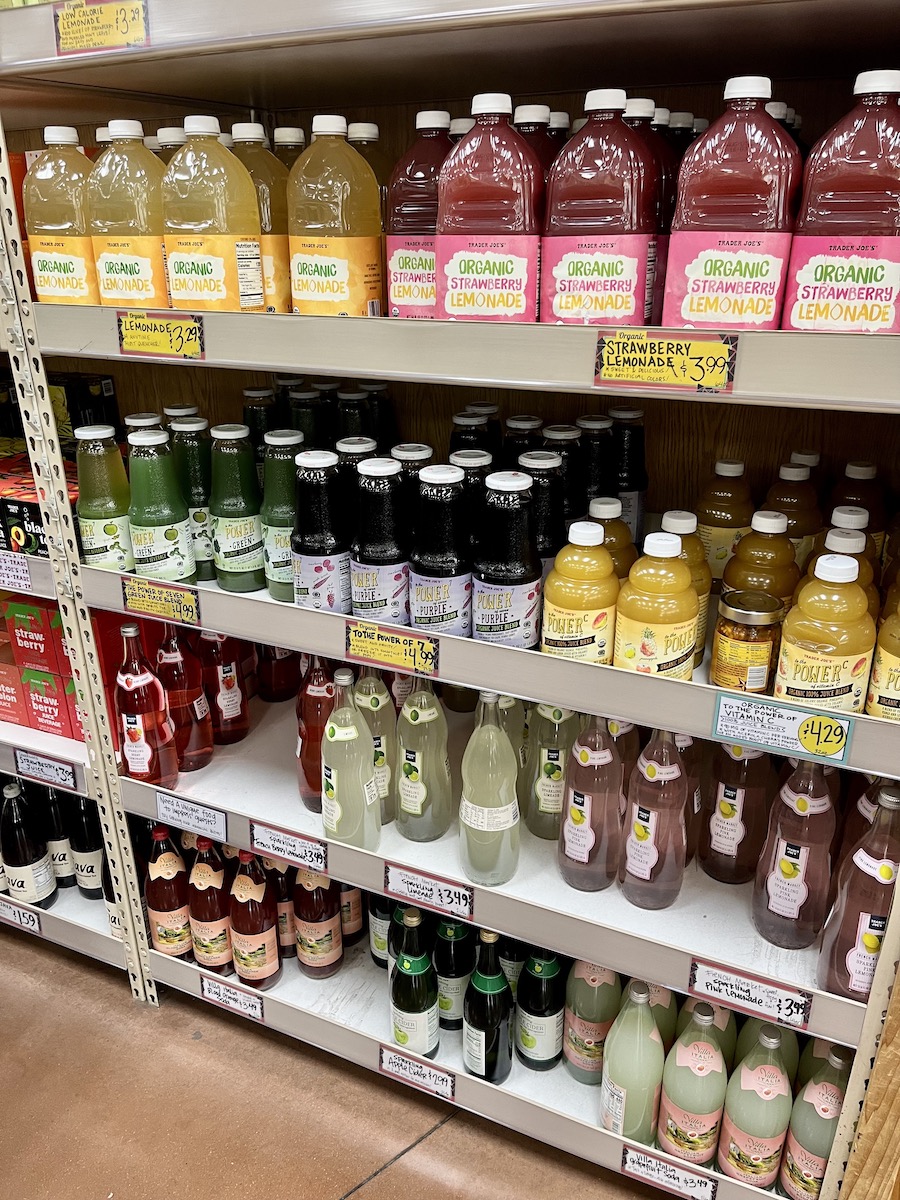 If cocktails or mocktails are more your style, TJ's has got you covered there, too. Their ​​Brewed Ginger Beer, for example, makes a mean Moscow mule, while the Spiced Cider and sparkling juices are extra festive when spiked with your alcohol of choice. Trader Joe's also has a variety of sparkling teas and seltzer waters that make for fun mocktails when doctored up with a splash of juice or lemonade and a garnish.
6. Scented Candles
I always light a candle or two about an hour before the party starts so my home smells nice and cozy when guests walk in the door. And at $3.99 a piece, Trader Joe's candles are among the most economical ones you'll find. Depending on the time of year, you might find scents like Honeycrisp Apple, Vanilla Pumpkin, Cedar Balsam, or Mango Tangerine. As someone who typically picks up at least one of these candles every time I go to Trader Joe's, I can attest that you really can't go wrong with any of the scents.
7. Fresh Flowers
Whether you're hosting a dinner party or a more casual, grazing type of get-together, a nice centerpiece is a must for any party. On your way to the check-out line, stop by the floral section and pick out some flowers to complete your spread. I like to grab a few different varieties and create my own arrangement, but one or two of their pre-made seasonal bouquets will also do the trick.
The Trader Joe's Products Our Editors Can't Live Without