After the turkey, stuffing, and pumpkin pie, the decor is the most important part of hosting Thanksgiving dinner. For a meal this special, you don't just want to throw any old dishware on the table and call it a day. The good news is it's easier than you might think to create a festive Thanksgiving tablescape that still takes into account your personal needs (i.e. the size of your gathering, budget, limited time, etc.). Below, we've rounded up 10 easy ways to decorate for Thanksgiving this year, no matter how much time or money you have to spend. These ideas make it easy to set a beautiful table using items you already have around the house or can easily pull together last minute. That way, you can save the rest of your budget for the Thanksgiving punch. 
1. Let the food be the star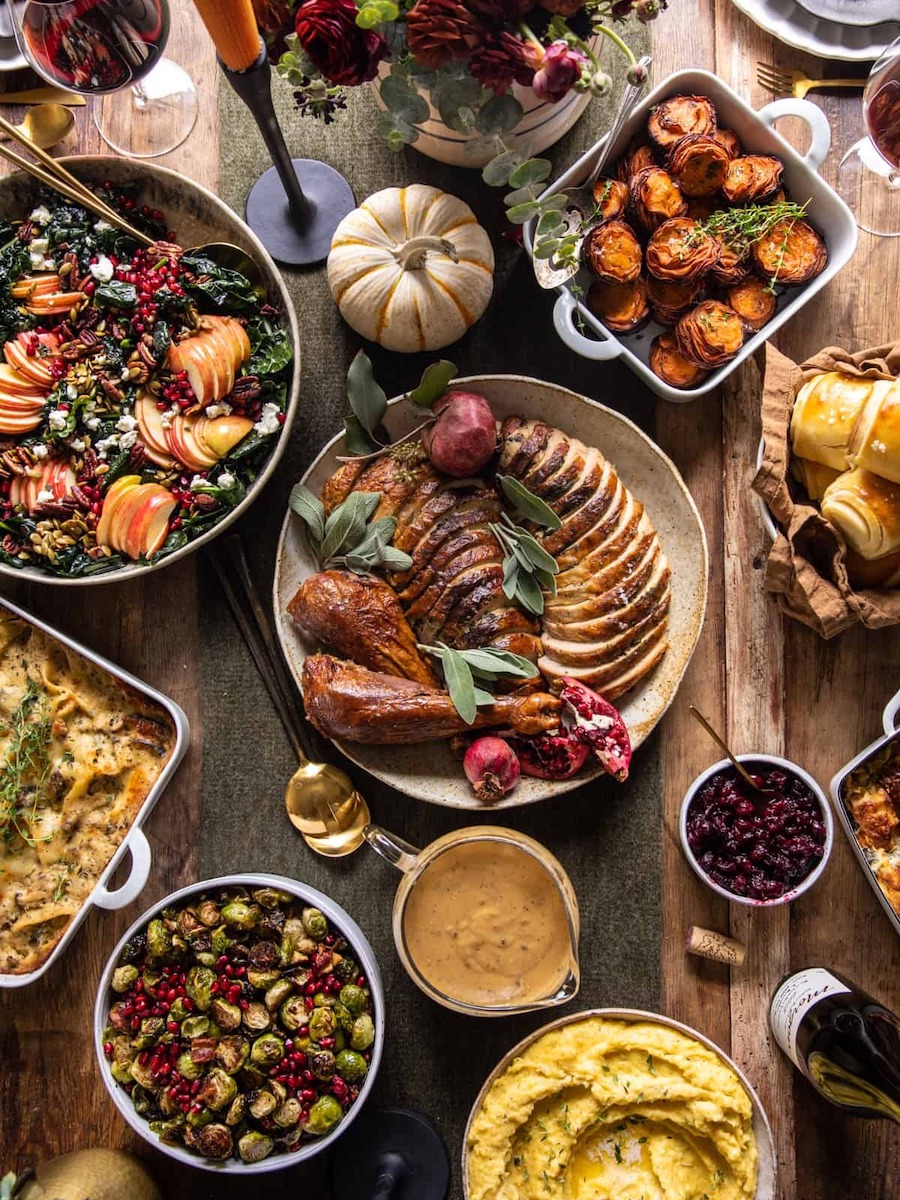 Thanksgiving is all about the food after all. You can totally get away with minimal decorations as long as you've got beautiful plates of food front and center. Be sure to use your best serving pieces, and take some extra time plating each dish like a food stylist (tip: a little garnish is always a good idea). When in doubt, a fall-themed charcuterie board can double as a centerpiece and something for guests to snack on until the main course is ready.
2. Add a place card for each seat
Nothing will make your guests feel more welcome than having individual place cards with their names on them at each seat. This Thanksgiving decor idea can be as simple as writing each person's name on a small card and tucking it under the napkin on their plate. For an extra flourish, attach a small piece of greenery (a sprig of rosemary or sage works perfectly here!) to each place card for some added texture and fragrance. Or use place card holders to make sure the names are easily visible amongst the rest of your setup.
Etsy | MarucciCelebrations
3. Use miniature pumpkins as decor
When it comes to Thanksgiving decor, pumpkins and gourds are as classic as it gets. For your tablescape, opt for the miniature versions so you can tuck them in amongst the dishes or place one on each plate. Whether you pick out some real ones from a local farm or invest in faux options you can reuse year after year, a few petite pumpkins will add a little something special to your table.
4. Add some nostalgia with a tablecloth
There's something so delightfully traditional and nostalgic about tablecloths. Give a nod to the "good old days" with a simple linen style or ask a family member if you can borrow one from their collection. Tablecloths are great for any occasion when you want to feel extra put-together, and tossing them in the washing machine afterward makes clean-up a breeze. 
5. Create inexpensive arrangements with seasonal flowers and foliage
Nature is the best kind of decor if you're looking for a low-cost way to dress up your Thanksgiving table. Ahead of the meal, grab a bouquet of seasonal blooms from the grocery store, or forage in your backyard for some fallen branches. Then all you have to do is arrange the stems in a pretty vase to add gorgeous texture and color to the table. We especially love the look of antique brass against blooms of orange, yellow, and red.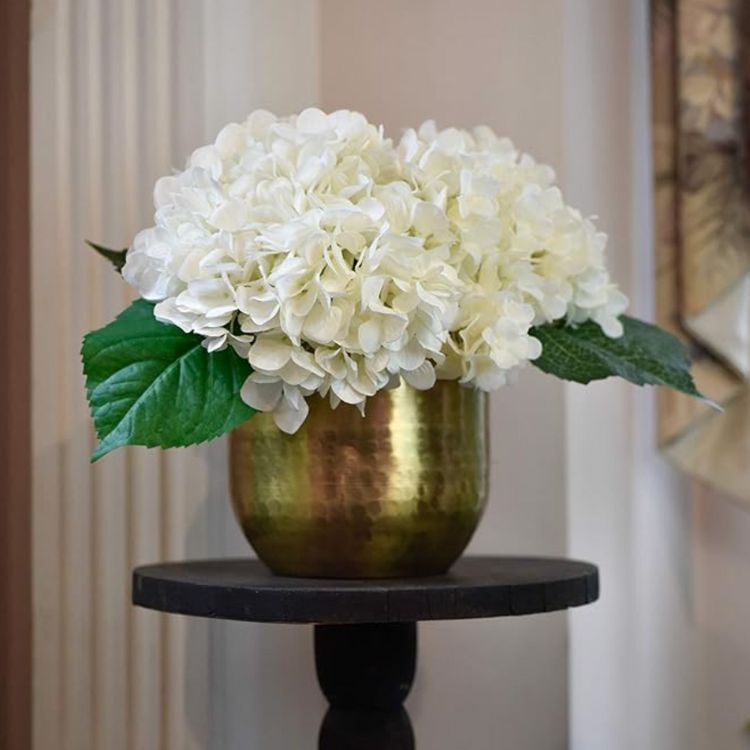 6. Break out the cloth napkins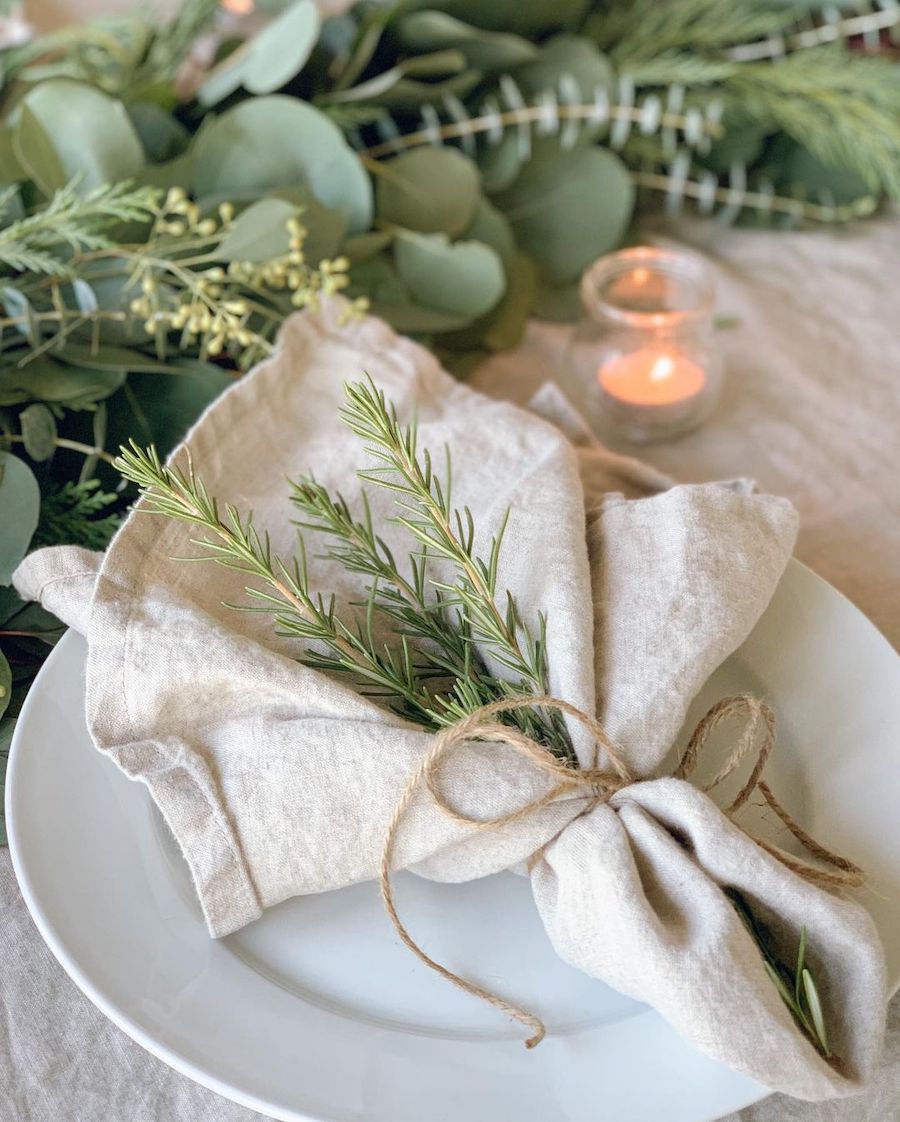 Not only are cloth napkins an environmentally friendly choice, but they also instantly elevate any sit-down meal. You can opt to create a formal place setting with one at each person's seat or simply keep a few stacked on your bar or coffee table if you're having a more casual, low-key evening. 
7. Dim the lights
If you want to create some ambience, the first step is to turn off your overhead lights. If your home didn't come equipped with dimmers, don't fret—you'll just need more candles. Tall tapers give off the best, brightest light, but feel free to mix in some hurricane glass vases or low votives for variety. The more, the merrier!
8. Layer a runner over a tablecloth
If you lay out the tablecloth and dishware but your Thanksgiving table is still looking a little "meh," you probably need more layers. For an easy way to add more interest to your tablescape, layer a table runner on top of the tablecloth for some contrast. This trick works especially well if you have a solid-colored tablecloth and a runner that has a bit of texture to it. But if pattern-on-pattern is more your vibe, we say go for it!
9. Use dried flowers or grasses for a stress-free centerpiece
Dried flowers and grasses are way less fussy than the fresh kind, and you can often find them in pre-arranged bunches that you can just plunk in a vase. This low-maintenance centerpiece can be thrown together in mere moments before dinner is served, so if this is your first time cooking a Thanksgiving dinner, it's a perfect, low-stress option. We love the idea of bringing in family heirloom vases for this (if you have them) since it makes the setup feel more sentimental and special.
10. Cozy up each seat
Ensure every guest feels cozy and comfortable while sitting around your table. If your dining room seating isn't super plush on its own, bring in some extra layers to cozy things up. Drape throw blankets across the back of each chair, or line a wooden bench with faux sheepskin for a thoughtful touch your guests will appreciate.
70 of the Best Thanksgiving Recipes to Make This Year